HDFC Bank Credit Card Customer Support – Phone, Email, Social Media

HDFC Bank is India's leading private sector bank. The financial institution offers various products and services to customers worldwide. And credit card is one of the product offered by the bank.
Many times, new or existing credit card users of HDFC bank need to contact the bank for various reasons such as grievances, bill payment, buy new card, block the card and others. And they can contact through following channels. Details of each communication channel is mentioned below.
Phone for Indian customers and NRI
Email
Direct Mail
Live Chat
Bank Visit
Social Media
Mobile App
(1) Phone for Indian Customers
HDFC Bank Credit Card Phone is 61606161 or 6160616 (depending on the city as highlighted in the table below). Make sure to add city code as a prefix before dialing the customer support number. For cities other than the ones listed below dial 1860 267 6161
Here are the city specific contact numbers –
| | |
| --- | --- |
| Ahmedabad | 079 61606161 |
| Bengaluru | 080 61606161 |
| Chandigarh | 0172 6160616 |
| Cochin | 0484 6160616 |
| Chennai | 044 61606161 |
| Delhi/NCR | 011 61606161 |
| Hyderabad | 040 61606161 |
| Indore | 0731 6160616 |
| Jaipur | 0141 6160616 |
| Kolkata | 033 61606161 |
| Lucknow | 0522 6160616 |
| Mumbai | 022 61606161 |
| Pune | 020 61606161 |
Phone for NRI Customers
For NRI customers holding HDFC bank credit card, contact numbers are:
| | |
| --- | --- |
| USA | 855-999-6061 |
| Canada | 855-999-6061 |
| Singapore | 800-101-2850 |
| Other Countries | +91-2267606161 |
(2) Email
HDFC Bank credit card customer support Email ID is [email protected] 
For any card disputes such as wrong bill amount etc.; it is best to write Email. However their response time are 2-3 business days which may be too late, if your problem is too serious. So best is to reach through phone number mentioned above.
(3) Bank Visit
This is the most time consuming as you need to personally visit for any credit card query.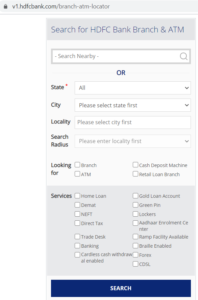 Since HDFC bank has many branches throughout the country, you may visit this official HDFC bank link – https://v1.hdfcbank.com/branch-atm-locator
(4) Direct Mail Address – Grievance Redressal or Others
                                          For Grievance Redressal
Mr. Manikandan PS
Grievance Redressal Officer,
HDFC Bank Cards Division,
8, Lattice Bridge Road, Thiruvanmiyur,
Chennai, PIN – 600041, (Tamilnadu) 
Phone number for grievance redressal is 044- 23625600
                                            For General Inquiry
Manager,
HDFC Bank Cards Division,
PO BOX # 8654 Thiruvanmiyur PO Chennai – 600 041, (Tamilnadu)
                                                For Courier
Manager,
HDFC Bank Cards Division,
# 8, Lattice Bridge Road,
Thiruvanmiyur, Chennai – 600 041, (Tamilnadu)
(5) Live Chat with EVA in English / Hindi
You may also live chat with HDFC bank's live personal assistant named EVA . To personally communicate, you need to visit their official website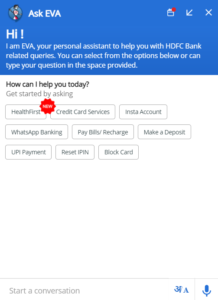 https://www.hdfcbank.com/ and a pop-up will open (refer snapshot).
You need to select Credit Card Services and select the options as they appear further. However since this chatbot is AI based and learns from chats and updates, not all of your queries will get resolved. So best is to reach the HDFC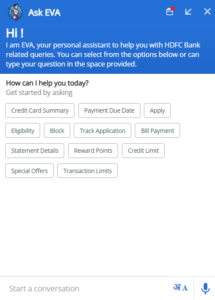 bank credit cards customer support via phone or Email. 
You may also visit the credit card section on HDFC bank website (https://www.hdfcbank.com/personal/pay/cards/credit-cards) and a pop-up will appear as shown on the right. Just select the required option and start conversation.
 (6) Social Media Channels of HDFC Bank
One of the growing communication channel by every brand these days is Social Media. And HDFC Bank
Facebook – https://www.facebook.com/HDFC.bank/
Twitter – Official Twitter Handle @HDFC_Bank – https://twitter.com/HDFC_Bank
Youtube – https://www.youtube.com/hdfcbank
Instagram – https://www.instagram.com/hdfcbank/
(7) Mobile App
Another option to contact HDFC bank credit card customer support is through their mobile app. You need to first download the app. However HDFC's mobile app offers very limited card services –
New card application
Pay credit card bills
Block/hotlist a lost or stolen credit or debit card and
Check reward points
Author Bio:
Hi, I am Nikesh Mehta owner and writer of this site.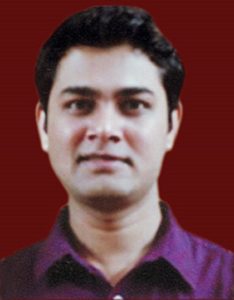 I'm an analytics professional and also love writing on finance and related industry. I've done online course in Financial Markets and Investment Strategy from Indian School of Business.
I can be reached at [email protected]. You may also visit my LinkedIn profile.