Bitcoin Infected with Coronavirus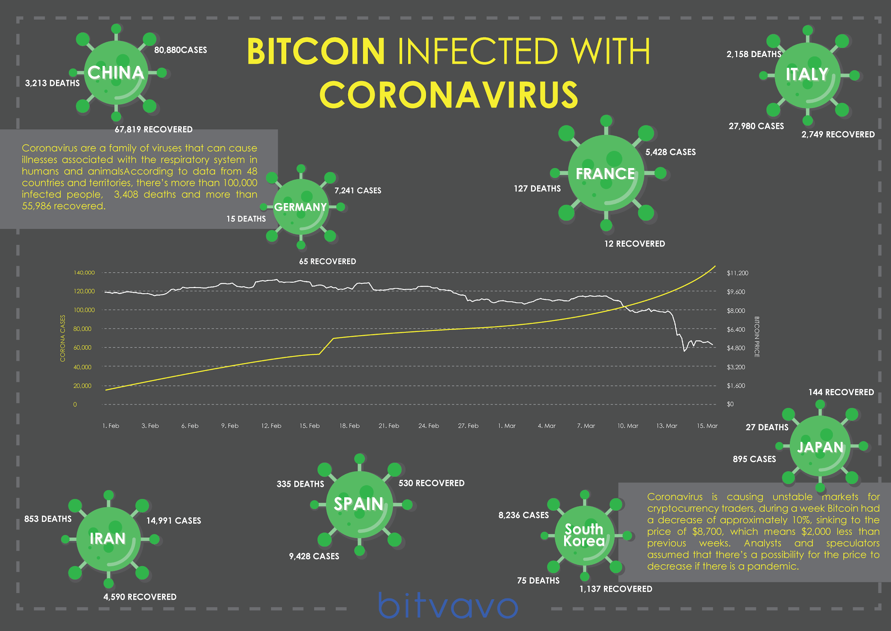 This information is provided by Bitvavo, a trading platform.
COVID-19, or "the Coronavirus" is taking its toll on more than just people's health. While the virus has proven to be easily transmissible and sometimes dangerous- perhaps the most devastating reality this virus has brought into stark focus is the shortcomings of our preparedness systems.
COVID-19 is the disease caused by the virus SARS-CoV-2, known simply as the Coronavirus, or novel Coronavirus. This virus can cause severe respiratory problems in certain populations while leaving others wholly unaffected. Because of its novelty, scientists and researchers across the globe are desperately attempting to collect further vital information while keeping up with a sharp increase in healthcare demands.
The virus has required widespread mandatory shutdowns and quarantines, in an attempt to staunch its continued spread. Amidst these shutdowns, economies on both a local and global scale are starting to falter. Traditional markets like NASDAQ, S&P 500, Dow Jones, and even crude oil prices have been hit hard with little noticeable recovery.
Bitcoin and other cryptocurrencies were no stranger to these sharp devaluations, with bitcoin trading values plummeting near 50% in less than a week. As present trade values hover around $5,000, roughly $2,000 less than what they had been trading at somewhat regularly. While this may superficially seem to be a bit of a murderous jab at the idea that bitcoin was touted to be a safe-haven asset, some traders believe that it's too soon to tell. Largely because bitcoin, amongst various other cryptocurrencies, are starting to see sustained market recovery- where traditional markets are not.
Following the US government's bid to improve these dire numbers, by slashing interest rates and the Federal Reserve purchasing 700 billion dollars in Treasury and mortgage-backed securities- little improvement has been seen. Which may yet indicate that cryptocurrency might be a bit safer than they seem. Despite the wildly volatile pricing.
---
class="wp-block-separator has-alpha-channel-opacity"/>