5 Smart Ways to Earn Money Online for Students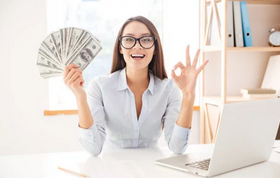 Have you come across any student that says their pocket money or allowance given by parents is enough? I haven't so far, at least. Students from highly affluent families might get larger allowances than others. But their parents too won't provide the proverbial blank cheque for allowances.
So how do you lay hands on that extra money to buy something trendy, treat friends, pursue a newfound passion or finance an acquired taste?
You can beg, borrow or steal, as the old adage goes but that's not really practical. Instead, you can do something simpler and respectable like earning money online during spare time. Thanks to the Internet and your parents who would have given you a laptop and smartphone or at least
one of these gadgets, there are several smart ways to earn money online for students.
Therefore, let's explore these five ways that can help fatten your pocket or purse and meet those extra expenses as student.
Five Smart Ways to Earn Money Online
The five smart ways to earn money for students I describe are tested and proven. And they can earn you a lot of money. How much money you earn is directly proportionate to efforts. Hence, more the effort, higher your income. The smartest way to earn money online is by simply following your passion or finding work that allows you to work from comfort of home, dorm or even while commuting. Here are the five smart ways to earn money that you can try.
1) Online Mystery Shopping
Ever wondered how brand stores, chic boutiques, giant supermarkets and malls maintain consistent service and standards? They hire market research companies to find how customers feel at their store. These companies do the necessary research through a community known as
mystery shoppers.
Register online on any large mystery shopping website to join the community. They have some very strict standards to take you onboard. But if you qualify, it's the smartest way to earn money as student. You'll be visiting stores, restaurants, cinema halls and other places as an
ordinary customer. Once there, you'll observe everything from décor to staff behavior, display of products to check-out time and lots more.
Your employer pays for the shopping so you needn't worry about the bills.
Upon completing a mystery shopping trip, you've to provide a superb review about your experience at the place. Often, the employer provides templates where you simply fill in the blanks and submit online. In some cases, you would be responsible for writing details in the format the employer wants. But in any case you can earn between Rs.250 to Rs.500 per
assignment. Sometimes, you get to keep the stuff bought as mystery shopper but that's not a rule.
2) Make Money from Facebook
If you're looking for simpler online work, it's possible to make money from Facebook. Understandably, you'll need a valid Facebook account with a decent number of 'friends' to qualify.
There are several ways to earn money from Facebook as student as follows:
"Like" the Page: The simplest among these is to make money by selling Facebook 'likes'. This means, getting your friends to 'like' another Facebook page, usually of a company or brand. The company that needs your likes pays you. Generally, the rate is Rs.10 per like but you can ask for more money, if you have lots of foreign friends and the company requires 'likes' from abroad.
Create Content: Another avenue to earn money with Facebook is by creating interesting content for others. Lots of small businesses cannot afford full-time content creators. Should you possess the necessary creativity, enter this field.
Others: There are also other amazing ways to earn money from your Facebook. These include affiliate marketing, promoting content on behalf of other parties as your own and selling any homemade stuff on Facebook Marketplace.
3) Online Data Entry
This is the simplest online job any student can perform to earn money online. All you need to do is take information from raw data provided by the employer and place it in the proper format or template. In fact, part time data entry jobs are very easy to find in India. You can see several ads on classifieds sections of newspapers and recruitment portals online.
Usually, you would make between Rs.8,000 and Rs.10,000 per month working as online data entry operator from home. The pay can go up to Rs.15,000 per month, if you exert extra efforts. There are two kinds of online data entry jobs, broadly speaking:
One that pays by the hour and
Second one where you get paid for completing an assignment.
However, a word of caution. Never pay money to get an online data entry job. There are several scammers that pose as large companies. They'll ask your personal details including bank account number. They demand money as a refundable security deposit or for some software. Any and every employer that wants a security deposit or asks you to buy software is a
scammer. Hence, be very careful while applying for these jobs.
4) Blogging
Blogging is another smart way to make money online as student. All you require are some creative and excellent writing skills to become a successful blogger. There are over 500 million blogs on the Internet, majority of them owned by ordinary people and students.
Other than making money, blogging also has other benefits for students. It helps you keep learning newer things in your field of studies and keeps you ahead of peers. Secondly, you stand a good chance of becoming famous among classmates and students in other educational institutes. Having a blog enables you to give wings to your creative side and monetize your
passion. You can blog about almost anything: from movie reviews to video games, complex topics of study to food and entertainment. There's no limit to themes you can choose from for blogging.
To earn money from blogging, your blog has to be eligible to get Google AdSense subscription. And you can also do affiliate marketing from your blog. Google AdSense means you give Google the permission to display ads on your blog. And Google pays you when anyone clicks on these ads on your blog.
Affiliate marketing mean you are selling products on behalf of another company. Amazon has an excellent affiliate marketing program you can join for free. Known as Amazon Associates, it welcomes all bloggers to participate and make money.
5) Part Time Virtual Assistant
Virtual Assistant or VAs is a growing profession in India. It means you will perform various tasks online from home or dorm, for a senior executive or businessman. These tasks would generally include responding to emails, fixing appointments, answering calls, posting stuff on social media or online store and others.
Since there's different types of VAs in India, it's hard to say exactly how much money you can earn. However, information from different sources indicate you can make up to Rs.200 to Rs.300 per day by working as VA for four to six hours a day. Again, this is an approximate figure and would depend upon lots of factors like the type of VA job and the company you join as VA.
My research indicates that in India, VAs are in high demand for accounting, administrative and social media management roles. Hence, you can opt for a VA job that suits your skill and possibly, the line of your studies. Some companies also hire VAs for telecalling and customer care.
In Conclusion
You could try any of these five smart ways to earn money as student. As I mentioned earlier, these are respectable and high paying ways to makes some extra cash. There's other ways like completing online surveys but they won't earn you a sizeable income. Instead, you can use them to supplement earnings and have some fun and earn.
Try any of these five ways to earn money online as student. It would be worth your time and effort.