6 Best VPNs with Money Back Guarantee/FREE Months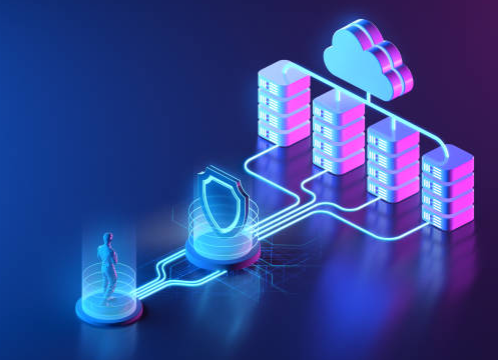 A VPN allows users to surf the web securely and anonymously, without being able to be traced. Thus, users can safely download torrents, unblock Netflix, circumvent censorship in China and safely use public wifi networks.
VPNs facilitate all of this by masking your IP address and encrypting the internet connection. In short, with a VPN we are safe online.
Getting the best VPN service is of vital importance  Since data protection is extremely important when using VPN; the service providers should be transparent in specifying the features such as:
Security and reliability
Privacy and Records Policy
Number of servers
Cost
Speed
Ease of use
Customer support
So which is the best VPN (Virtual Private Network) provider?
This is a very complicated question to answer. Simply because there are so many VPN providers to choose from. There are providers offering offer free plan (with obvious limited features) and some offer paid plans with excellent features and money back guarantee.
VPNs offering FREE MONTHS or Money Back Guarantee
The saying "what you give is what you get" is often very true when it comes to online services.
Does a completely free VPN provide the same benefits as a paid service?– The logical answer is NO. Because with paid comes premium benefits.
So listed below are the most trusted and paid VPN service providers. They are affordable and offer money back guarantee or FREE months.
(1) NordVPN: 30 Days Money Back Guarantee
It is one of the most affordable VPNs and highly recommended for watching Netflix, Prime Video, Disney Plus, Hulu and all its content. They offer 30 days money back guarantee.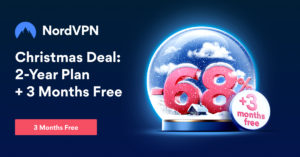 The encryption protocols are top class and has up to six simultaneous connections, with more than 62 countries to choose from and is compatible with Windows, Linux, Mac, Android or iOS devices.
Checkout the Christmas 2020 deal with 68% off in addition to 3 months free.
You can request money back, no questions asked. In addition, they have 24hr live chat support.
(2) RusVPN – Free Extra 6 Month + 30 Days Money Back Guarantee
RusVPN is one of the most interesting private networks due to its affordable prices compared to all the services it offers. It offers extra 6 month free VPN when purchased with an yearly plan which starts at $2.99 per month. It has a 30 day money back guarantee. So you can try it for a month and ask for a refund in case you are not satisfied with the service.
Check out their Christmas 2020 Deal with 50% off and Extra 6 months free
It has support for Android or iOS tablet or cell phones or with browser extension versions in both Firefox and Google Chrome. It offers a stable connection with hundreds of secured servers, adds data encryption by encrypting all Internet traffic and enhances privacy by hiding your public IP for anonymous browsing. It also allows you to access streaming content on all types of platforms, access games, music or unblock any web page blocking.
(3) Surfshark VPN: 3 Months Free
Surfshark VPN is a solution that allows users to connect an unlimited number of devices to the network safely and anonymously. Customer support is 24*7 making them the most preferred solution.
They have a large number of servers and user can access 15 Netflix libraries. The price includes a free ad blocker. Although it is not free, user gets 3 months free when purchased with the plan of $2.21/month.
(4) ExpressVPN: 30 Days Money Back Guarantee
Although it is not a free VPN as such, but it is one of the best rated VPNs by the users themselves with lowest plan of $12.95 per month. However, it offers a 30-day money-back guarantee on all the plans. So you can try it for 30 days and if not satisfied, ask for money back without any hassles/risk.
ExpressVPN offers secure encryption, more than 3000 servers in 94 different countries, 24*7 live chat support, unlimited data for fast and unlimited streaming. It also offers the possibility of bypassing the restrictions of Netflix and other content streaming services from our country, etc.
(5) Cyberghost – 45 Days Money Back Guarantee
Being in the business for 15 years, they are the most valued VPN service provider. They don't have any free plan but they offer 45 days money back guarantee. They have over 6800 servers worldwide and can protect up to 7 devices at the same time and offers 24/7 live customer support. You can access the Internet without volume restrictions but with speed limits, which slows down the surfing. 
(6) Speedify – 30 Days Money Back Guarantee
Speedify is a private network service that offers no free version but has plans for individuals, families and teams with 30 days money back guarantee. It has locations in 24 different countries in 5 continents. The service is available for Windows, iOS or Android and enhances privacy or security on connecting.
The operation of Speedify is quite intuitive and simple. You can choose the locations to connect or let the service automatically choose. Once connected, you only have to worry about surfing the Internet and visiting the pages you want from any of the supported devices.
Things to Remember:
Not all people seeking VPN services are ready to pay the monthly fees. For online services, always look beyond the price. Paid VPN services use their subscription fee not only to generate revenue but also to provide ongoing maintenance for their server network in order to offer highly secured service to their paid subscribers.
This means that the encryption must be up to date and robust, but it also depends on a multitude of servers in various (physical) locations that allows fast connections.
Author Bio:
I am Nikesh Mehta, sole owner and writer of this site.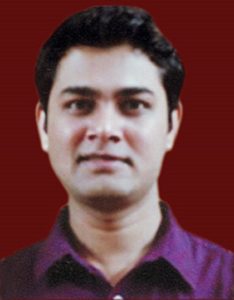 I'm an analytics and digital marketing professional and also love writing on finance and technology industry during my spare time. I can be reached at [email protected] or LinkedIn profile.