Medical Tourism in India, Growth, Advantages, Disadvantages
Rise of Medical Tourism in India
With rising health care costs in developed countries like United States and United Kingdom along with rising inflation in these countries, patients who cannot afford such an expensive health care costs are seeking medical treatments in countries which offer same treatments at a very low cost. In fact, celebrities, sportsmen & other people from western countries flock to such countries. This has given rise to medical tourism (or medical travel) which has now become a growing sector as it creates lots of job opportunities and adds to the growth of the country. And amongst the countries which offer low cost health care services, India is one country. Growth of medical tourism in India has been very rapid in the last 10 years and according to Confederation of Indian Industry over 1, 50, 000 patients travelled to India to seek health care services in 2005. And according to Ministry of Tourism, India, medical tourism growth in India is expected to see an exceptional growth rate of 30% by 2015 and set is to become a 2billion USD industry.
Advantages of Medical Tourism in India
1) The biggest advantage of medical travel in India is the low cost health care service
2) Technological advancements and highly educated doctors
3) Availability of latest medical instruments
4) High health care standards offered
5) No language barrier as English is widely spoken across India. Moreover many hospitals in India hire native translators for patients from African countries so that they can communicate effectively.
6) Relaxed visa rules
7) Visa on India arrival for patients from specific countries
8) Availability of low cost generic medicines
Disadvantages of Health Travel in India
Despite of above mentioned advantages there are few disadvantages of medical travel in India. Listed below are drawbacks:
1) Medical Malpractice: Misdiagnosis during the treatment can result in unforeseen damages even though hospitals provide malpractice insurance. And since travellers are not aware of the legal rules in India, this can cause further troubles.
2) Insurance Coverage: Your insurance coverage varies on the type of medical treatment taken. So before seeking any treatment understand all the facts to avoid any unnecessary expenses during your stay abroad. And since medical travellers are unaware of legal issues, it may cause problems to them since in countries like US & UK legal procedures are very transparent.
3) Post Operation Recovery: Most of the times after the medical procedures, patient has to do routine health check with the same hospital. But issues arise when the recovery time of procedure is longer and in such cases medical tourists in India have to arrange stays outside the hospital on their own.
4) Travel Cost: It is always recommended for medical tourists to accompany someone while travelling abroad for medical treatment. But this spurts the travel, accommodation and other bills.
Health Care Cost – India Vs USA
Here's the summary of important heart surgical procedure in India compared to US. (Source: American Medical Association)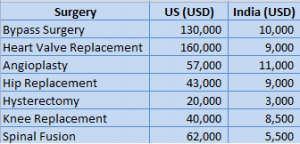 According to the projection by ASSOCHAM, medical tourism growth in India is set to rise and by the year 2015 – over 3, 200, 000 medical travellers will come to India to seek it's low cost health care services.