Insurance for Bariatric Surgery in India, Where to get & how
Is Bariatric Surgery Covered by Insurance?
Simple answer to this most common question is YES but only on a case to case basis. So how to get your insurance company pay for bariatric surgery? Before answering this question, let us get some details on this weight loss surgery.
It is a surgical procedure performed on individuals with high obesity. During this procedure size of the stomach is reduced or portion of stomach is removed. Other benefits of this surgery are recovery from diabetes, reduced risk of hear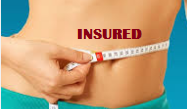 t problems amongst others.
So how to get insurance coverage for bariatric surgery?
Insurance for weight loss surgery is not offered by the insurers as it is not considered as life threatening and is categorized under cosmetic surgery. And as per the rules set by Insurance Regulatory and Development Authority (IRDA) no cosmetic surgeries are included in medical insurance coverage. But doctors performing an operation should assist the patients and explain insurance companies that the surgery performed on the patient was life threatening as it could have caused other health problems and that surgery is the last option.
Patient might have to submit all the medical reports in order to win the claim. So always keep each and every report, doctor's prescription handy and in originals. And as a safer side keep soft copy along with you for future reference. Because non-availability of even a small document can turn things in favour of insurance companies.
If insurers accept to provide coverage, then ask them what type of expenses would be covered, criteria to be met, type of bariatric surgeries covered. Discuss all the possible queries before hand with your surgeon. Also post-surgery, patient has to spend few days in the hospital, so also clarify about this expense.
Ask your insurer whether rider option or paying an additional premium can help in reimbursement of the surgery cost.
Despite of all these if you are denied of claim then you can file a complaint at consumer court.
Insurance companies that cover bariatric surgery:
In recent cases, health insurance for bariatric surgery was offered by Star Health Insurance, Bajaj Allianz, United India Assurance and HDFC but only on case to case basis. And in all these cases, doctors involvement played a major factor in winning the reimbursement as communicated with insurance companies for explaining the medical reasons for undergoing the surgery.
Manipal hospital, Bangalore has partnered with insurance companies for bariatric surgery. For more details on insurance cover for bariatric surgery, you can reach Manipal hospital on: +91 99-000-27157. Contact E-mail: [email protected] Website: http://www.manipalinternationalpatientcare.com/our-treatments/bariatric-surgery/bariatric-surgery-insurance/
Good news for government employees
In December'13, central government health scheme (CGHS) announced to reimburse all his current and former employees for bariatric surgery.