How to Organize Your Home Office While Working Remotely?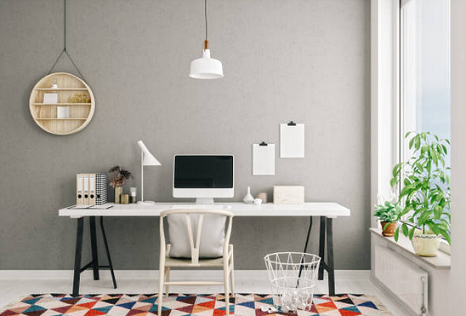 For some people, home office sounds like a dream. Why? Just imagine – having the freedom to design the schedule, possibility to set the working hours on your own, and being in a friendly environment. Even though it may be an enjoyable way of working, it seems to be a slippery slope – be aware that there are some obstacles to cope with.
A few years back, it was unusual to work remotely. This type of work has changed the business forever. Between the early 2000 to 20s, the tendency to work remotely increased by 159%! What were the possible factors of this phenomenon? It is said that remote working can boost motivation and productivity. It also reduces the costs of maintaining the office.
Nowadays, especially during this hard time, working remotely is becoming more popular, and in some cases, the only way to do one's job. Despite the statistics and studies results, the most significant part of managing a home office is self-control. If you are in this comfortable position which allows you to work from home, you should get to know how to deal with all, smaller or bigger, difficulties connected with it.
Plan the Schedule
It is the holy grail of working remotely. No, there is no exaggeration. Being well-organized is the key to reach all the goals throughout the day. The home office gives you the comfort to decide about working hours. Would you describe yourself as a night owl or an early bird? You know what? It does not make a difference in this context.
The most important part is to set the hours. If it is more beneficial for you to start work at 8 AM and finish at 4 PM, do it, but if you prefer to work later – it is not a problem. Allow your schedule to fit your daily routine accordingly.
You have the autonomy to decide about your workday. Set the hours while you start the work and then, adjust all of your tasks and goals. It gives you the clarity to start every workday with a plan. Divide them into daily- and long-term assignments. It is easier to create small steps to achieve a bigger goal. Imagine you have a big project to do. It means lots of reading, researching, thinking, and creating.
Remember, Rome was not built in a day. First, gather all the information needed to start the project, contact other people to commute ideas, and make a plan for your presentation. See? It is psychologically proven that having small goals makes you focus on a particular task and it boosts your motivation!
Once you have written down all of your tasks, try to adapt them to your working hours. Till hour A, I am going to do 1 and 2, and till hour B, I am going to do tasks 3 and 4. Keep on track your to-do list and time-table. Lastly, do not forget about breaks! They are essential for you to stay concentrated and inspired. Add them to your schedule. Have time for a nutritional meal, relax, or a partner/family member. Also, reward yourself after achieving bigger goals.
Organize Your Workspace
A well-organized workspace is as important as a good schedule. Of course, there is no need to transform into the biggest esthete, but you must stay focused. Remember that it partly shows how committed you are.
How to organize it in a few easy steps?
It is essential to have a specific space, so choose one room which will be your home office and be sure that this place will give you the opportunity to work in silence, without any distractions. It also allows other household members to function without any more significant modifications.
Declutter your desk, and it's surroundings. There should be only the most essential things, like papers, tools, files, important electronic devices. Thanks to that, you can access them easily without any loss in time for looking for them.
You should establish clear boundaries between your work and home. Working in pajamas is not a good idea. Then, you unconsciously give yourself the right to feel less pressured. So bear in mind that the clothes you wear affect your performance.
Limit Your Distractions
Working from home can bring quite a diverse set of distractions. Beginning with your pets (how to say no to these beautiful eyes and fluffy belly?), and ending with your TV or mobile phone "It is just a few minutes, I will only check the most important apps". If you wonder, no, you will not.
You should be mindful of your concentration. The more distractions you have, the easier it will be to feel exhausted, less energetic and productive. As it was said before, organize the space where you can truly focus on your work. Turn off unnecessary devices, shut off any notifications to assure that unimportant things do not sidetrack you, do all the house chores before and do not succumb to the cuteness of your pets. I know it is hard.
Use the right tools for the job
While working remotely, it is essential to assure yourself that you use the best possible tools. A good Wi-Fi connection is a key. You should not waste your time trying to connect to the Internet, so it is the best choice to check it before you start working remotely. Use electronic devices that can work for at least three hours straight.
Another aspect of working remotely are programs that you use. There are plenty of communicators, schedule-organizing apps and more defined appliances that can make remote work more accessible.
This type of work usually implies communicating with other people (e.g., your supervisors), sending relevant documents. The most important thing is to make it at once, as quickly as possible, but also neatly and professionally. Thanks to apps like FaxBurner you can easily send faxes from your email without the need to have a fax machine or have a free fax-number. Online tools are affordable, and they make remote work much more comfortable.
Avoid procrastination
It is the biggest enemy of having the work done. Of course, when you do not feel any pressure from your supervisor, it is easier to put things off to later. If you allow yourself to do it consistently, you will have to face unpleasant effects – stress, lack of energy and motivation to cope with such a big amount of work.
That is why deadlines are so important! Give yourself realistic timeframes, which will allow you to focus on a particular task. You will be stunned how much you can achieve in one day.
Thanks to all these tips, your remote work will be beneficial and constructive. It is easier to manage time while creating schedules, office space or using proper tools. You do not have to struggle with reaching your goals and finishing all tasks before the deadline. Be well-organized and you will see spectacular effects!