Budget Facts – Every Indian Should Know
Interesting Facts About Budget
Being an Indian, we were anxiously waiting for the budget by the new government. But let's get to know some interesting facts about the budget.
1) Origination of the word BUDGET – This word used across the world got it's name derived from the word "BOUGETTE" (in French) which means "SMALL BAG" in English.
2) Finance minister doesn't present interim budget in the parliament – Although this has not happened in the history. But if such a scenario occurs then it does not mean that people don't have to pay taxes. But in reality, the whole government comes to a standstill in case budget is not presented.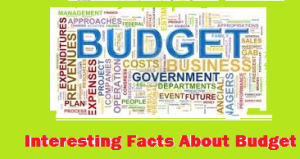 3) Number 11 – Is the total number of times interim budget been presented in the parliament by the finance minister of India.
4) Length of budget speech –  In India, budget speech are shorter as compared to other countries. However the trend of giving longer speeches was started by Mr. Pranab Mukherjee in 1982 which lasted for one hour and 35 minutes. And since then the duration of budget speech in India has increased.
5) Dream Budget – Was the one presented by Mr. Palaniappan Chidambaram (P. Chidambaram) in 1997 . The budget aimed at lowering the income tax and corporate tax rates and removed surcharge on corporate taxes.  He has been finance minister of India for four times in his career and is a corporate lawyer.
6) Preparation of Finance department is responsible for preparing the union budget in India.
7) 01 April – Which marks the start of financial year is the day on which the union budget which is presented on the last working day of the month of February comes to effect.
8) Annual Financial Statement – In the constitution of India, Union budget is referred to as Annual Financial Statement.
9) Morarji Desai is the only finance minister who has presented the budget on his birthday and has also presented 10 budget which is maximum number so far.
10) Pandit Jawaharlal Nehru is the only prime minister who has presented union budget which otherwise is presented by Minister of Finance.
11) Budget Presentation Time – Until the year 2001, budget in India was presented to the parliament at or after 5 PM. But in 2001, Yeshwant Sinha, finance minister at that time presented the budget at 11AM.
12) On the day of budget, the minister of finance poses for the photographs before entering the parliament to present the budget by holding the leather briefcase near the chest.