Bank Account Form for Sukanya Samriddhi Account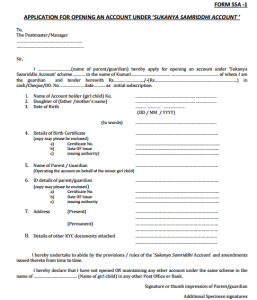 During the "Beti Bachao Beti Padhao" campaign launch in January 2015 at Panipat, India's prime minister Shri Narendra Modi announced a special deposit scheme for girl child "Sukanya Samriddhi Account".
The account can be opened in post offices and 28 banks authorized by reserve bank of India. Here is the screenshot of the Sukanya Samriddhi Account opening form available at both public and private sector banks.
The details required to be entered in the form are very simple to understand.
Make sure you carry original as well as photocopy of required documents for SSA yojana which are as follows:
Birth certificate of the girl
Address proof (Present and Permanent)
Identification document proof
You can also open the SSA at Indian post offices. The details of the account opening form at post offices can be seen here.
Features of this scheme:
Investment can be made in every financial year starting from 01 April 2014-31st March 2015
You can pay either by cash/cheque/demand draft
Account can be closed prematurely in case of the death of the account holder.
The money accumulated through this scheme will be used for the development of infrastructure.
During the launch of this yojana, passbooks to five girls were given who have opened the account under this scheme. Check out how Sukanya Samriddhi Account passbook looks like.
Read detailed information about the benefits of Sukanya Samriddhi Yojana. Many people are comparing SSA with PPF, which is incorrect as both has different objectives. Check out comparison of PPF and SSA, which will give you a clear picture.