Coinbase NFT Marketplace: How to Buy, Store & Sell

Ever since non-fungible tokens (NFTs) became an attractive investment product, the number of NFT collections has skyrocketed. But not only the collections are blooming, NFT marketplaces are popping up everywhere. After all, NFTs needs to be traded somewhere similar to stocks, and that is possible only on a dedicated marketplace.
Previously, NFTs were mainly traded via decentralized applications (dApps). The crypto market has a lot of different blockchains, for example Ethereum, Solana and Fantom. On each blockchain, different marketplaces were built, destined for the NFTs on the respective blockchain.
Nowadays, more and more centralized platforms are also facilitating token trading. Coinbase is one of the cryptocurrency exchanges, which has established its own NFT marketplace. With millions of users worldwide, Coinbase is the perfect exchange to offer this service, and possibly accelerate adoption.
However, Coinbase is not the first centralized exchange to have its own NFT marketplace. Other major exchanges, such as Binance and FTX, also have their own NFT platform. These marketplaces are already fully operational, while the Coinbase NFT marketplace is currently (July 2022) still in the beta phase.
What is Coinbase?
Coinbase is an American cryptocurrency exchange, which was on the crypto market very early on. The company was conceived in 2011 and the official founding took place in 2012. In the early years, Coinbase mainly focused on buying and selling cryptocurrencies. The platform offered a handful of cryptocurrencies, including of course Bitcoin, Ethereum and Litecoin. But as on July'22 Coinbase's range consists of more than 100 different coins and NFTs have also been added.
Ultimately, Coinbase has grown into one of the largest cryptocurrency exchanges in the world, with over 70 million verified users using it today (July 2022). These 70 million users come from over 100 different countries!
Not only is the number of users growing, but so is Coinbase's platform. In addition to trading cryptocurrencies and NFTs, you can benefit from many more services on Coinbase today. For example, the platform offers strike for a number of altcoins, you can borrow through the platform and in addition, you can do your daily shopping with the Coinbase Card.
Is it possible to buy NFTs via Coinbase?
Nowadays, it is definitely possible to buy NFTs via Coinbase! Although the marketplace started up fairly recently and is still in beta version, you can use the platform. Both buying and selling NFTs can be done easily on the marketplace. The advantage of Coinbase is that the marketplace is very similar to that of OpenSea, the largest NFT marketplace in recent years. The payment method on the Coinbase marketplace is also the same as that of OpenSea; namely, you can trade NFTs by trading with ETH, the token of Ethereum.
When you want to buy an NFT on Coinbase's NFT marketplace, you will first need to connect a crypto wallet to the marketplace. In addition, only a wallet will not help you, as you will also need to have crypto to be able to buy an NFT. Therefore ETH in your crypto wallet is also very important. At this moment you cannot pay with Wrapped ETH (wETH), but Coinbase has indicated that this will be possible in the future. Coinbase has also announced that more cryptocurrencies and blockchains will be supported in the future.
Coinbase NFT marketplace overview
Coinbase's NFT marketplace is very well-organized, which is very convenient for users. Especially when you first enter the marketplace i.e. their website https://nft.coinbase.com/ you can discover the various buttons at the top. When you click on the Discover, Shop, Trending or Drops button, you are redirected to a different page. Let's explore each of these sections.

Discover
The name says it all, you can discover all kinds of things. You will find different NFTs and NFT collections here along with your account. You can scroll on this page and discover different NFTs, or click on the menus on the right.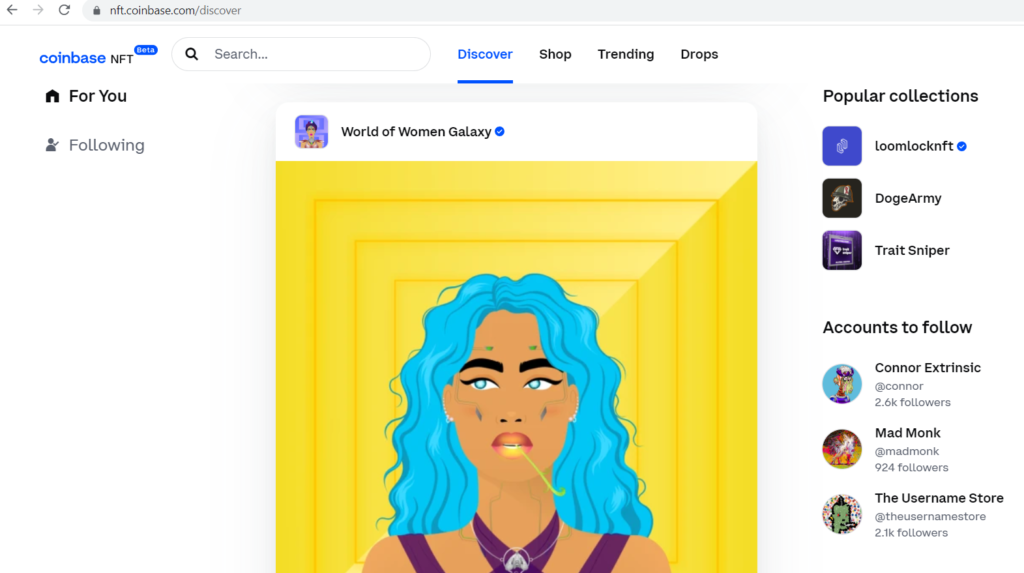 For example, you can click on 'Accounts to follow', where you can find a huge list of accounts that are followed by many people. Also in the search bar you can look for specific people. For example, are you curious what the CEO of Coinbase, Ben Armstrong, has in his wallet? The Discover section is a perfect place to see what other NFT investors have in their wallets!
Shop
In addition, the Shop section is where you can find what it's all about. After all, an NFT marketplace is for trading NFTs. Via the Shop you can bid on NFTs.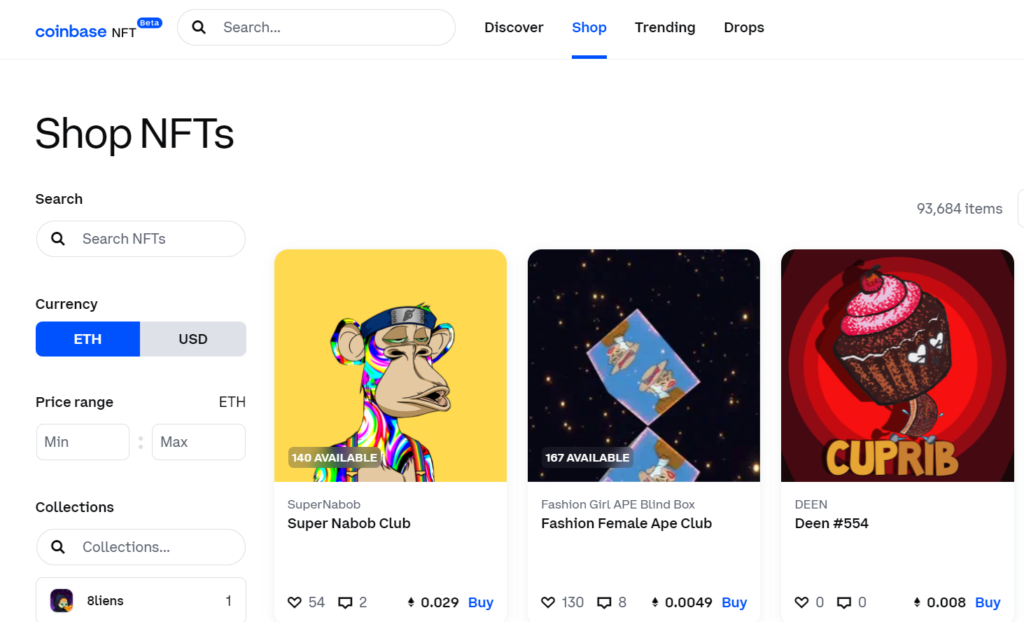 On the left side of the shop you have the possibility to use different filters. For example, you can choose the minimum and maximum amount you want to spend and also view the prices in dollars or in ETH.
Trending

Here you will see which NFT collections are in demand by investors and traders. Here you can find various data, such as trading volume, number of owners and amount of NFTs within the collection. The first two data can differ, therefore you can search in this section on 1 day, 7 days, 30 days or the complete timeline of collections. An ideal tool when you want to quickly see which NFTs are in demand!
Drops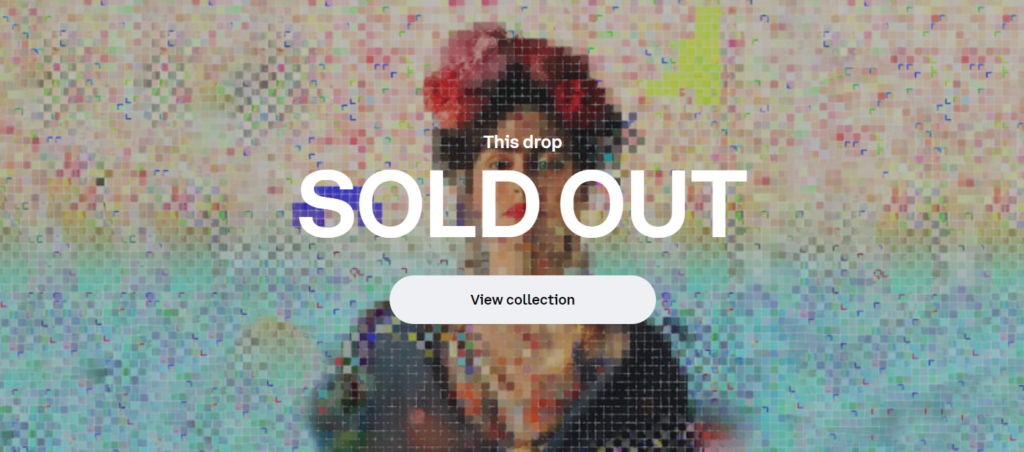 In this section of the marketplace you can discover upcoming NFT collections. Here the name, price and date of the collections are mentioned and by clicking on the image of a collection you can find more information. Through Drops, you can view both upcoming and recently released NFT collections.
How do you invest in NFTs on Coinbase?
To get started investing in NFTs on Coinbase, you will first need to go through a few steps. To be well prepared, it is important that you have a suitable crypto wallet, which allows you to connect to the Coinbase marketplace. Often used, for example, is the MetaMask wallet, a software wallet that is suitable for Coinbase as well as the NFTs on the Ethereum blockchain.
Check out: Most secured and user friendly NFT Wallets
In addition to the wallet, it is also important that the wallet contains coins. Without coins, it will be difficult to invest in NFTs. Therefore, it is important that you first buy ETH and send it to your wallet. In doing so, take into account not only the price of the NFT, but also the gas fees. In order to conduct a transaction on the blockchain, there are transaction fees. These costs are called gas fees, and are quite expensive on the Ethereum blockchain.
Trading NFTs on Coinbase can be briefly summarized with the following steps:
Make sure you have an appropriate wallet with enough ETH present
Connect your wallet to the Coinbase NFT marketplace.
Bid, buy and sell NFTs
How to buy an NFT on Coinbase?
The steps described above give you a basic idea of how to start trading NFTs. When you've found an interesting NFT and you've decided to buy it, you can click on the NFT in question in the overview.
You will then be directed to the page where you can find more data about the NFT. If you are lucky, there is a button with "Buy Now" on it. However, this is not obvious as this button is only visible on NFTs that are on sale. Is this button not present? Then the NFT is not for sale.
Can you store NFTs in your Coinbase wallet?
When you come across an NFT through Coinbase's NFT marketplace, it goes directly to the wallet you have connected to the platform. So the NFT does not go to Coinbase first, but from the moment you buy the NFT you have full control over your ownership. The NFT is a token on the blockchain and the wallet and private keys are yours.
Remember that you should not leave cryptocurrencies and NFTs on the exchange. However, NFTs automatically go to your wallet, so with this you avoid this problem.
You can use the Coinbase wallet for Coinbase's NFT marketplace. The ERC-721 tokens are suitable for both the NFT marketplace, and the Coinbase wallet. These tokens contain a digital file, to which the particular token links. As you can discover on the Coinbase marketplace, this is often an image, but of course it can also be a video, certificate of ownership of a physical object or a domain name sense.
How do I see my NFT on Coinbase wallet?
Did you just buy an NFT and want to confirm it in your wallet? Usually you can very quickly see the NFT your wallet. This is true for the Coinbase wallet, but also for other wallets that are suitable. However, there are also cases when the NFT is not immediately visible in your wallet. Is this then a reason to panic? The fact that an NFT is not yet visible in your wallet does not have to be a problem, or it can be an easily solvable problem.
There are three problems that are common in this case, namely:
The network of the NFT is not supported
The format of the NFT is not supported
The data has yet to be synchronized
When non-visible NFTs are not yet visible in your wallet, it may be because the data has not yet been synchronized. In this case, it is wise to wait for a while and check again at a later time. Chances are that the data needs to be processed and then you will be able to see the NFT in your wallet. If the network or format of an NFT is not supported, you may have to import your Coinbase wallet into another crypto wallet, which does support the NFT.
Conclusion
Because Coinbase is one of the largest crypto exchanges worldwide, with tens of millions of users, the arrival of the Coinbase NFT marketplace is a big step. Many novice investors step to an exchange they know the name of or where acquaintances around them have accounts.
Coinbase is one such platform, similar to Binance, for example. Both platforms offer different services to their users. This makes these central exchanges multi-functional. Therefore, it will be interesting to see what this means for OpenSea, for example.
The largest NFT marketplace at the moment does not have a large assortment of cryptocurrencies, or other services, so it could just be that the exchanges will take some of the users away from OpenSea. However, no one has a crystal ball. Therefore, always do your own research before investing!
---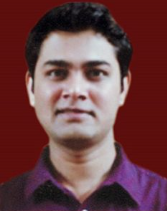 Hi, I am Nikesh Mehta, owner and writer of this site. I'm an analytics professional and also love writing on finance and related industry. I've done online course in Financial Markets and Investment Strategy from Indian School of Business.
I can be reached at [email protected]. You may also visit my LinkedIn profile.