Ujjivan Bank Personal Loan for Low Salary – Rs. 7,000 Minimum Wage Required

Asking for a personal loan to a third party (mainly financial institutions) for money to meet an unexpected expense is very common. Unless you are cautious and save part of your salary every month for possible expenses, it would not be strange if you had to resort to external financing to pay for unforeseen expenses or high value purchases. Personal loan can be used for various purpose such as studies, home renovation, travel, medical expenses, among others.
Amongst various financial institutions (mainly banks) offering personal loan product; Ujjivan Small Finance Bank Limited is one of the bank that offers personal loan to low salary earners as their minimum monthly income required for personal loan is very less.
Acc. to Ujjivan bank, the net monthly income for personal loan should be greater than or equal to the state prescribed minimum wage limit and the applicant should be salaried. Which means that depending on the state the applicant lives in and his/her job occupation, the salary required for personal loan from Ujjivan bank varies.
Listed in the below table is the total minimum wage (Basic + VDA) in various states of India.
| State | Minimum Wage per Month |
| --- | --- |
| Andhra Pradesh | Rs. 8,600 |
| Maharashtra | Rs. 9,600 |
| Chandigarh | Rs. 10,000 |
| Chhattisgarh | Rs. 8,500 |
| Delhi | Rs. 14,000 |
| Goa | Rs. 9,000 |
| Gujarat | Rs. 8,200 |
| Haryana | Rs. 9,000 |
| Himachal Pradesh | Rs. 6,700 |
| Karnataka | Rs. 10,000 |
| Kerala | Rs. 9,000 |
| Madhya Pradesh | Rs. 7,900 |
| Punjab | Rs. 8,700 |
| Rajasthan | Rs. 5,500 |
| Tamil Nadu | Rs. 8,700 |
| Telangana | Rs. 9,000 |
| Uttar Pradesh | Rs. 8,200 |
| West Bengal | Rs. 8,100 |
Note: Wages vary in every state for each type of occupation and zones within the stage. Also, there are only select occupations for which wages are defined in each state.
For e.g. in Andhra Pradesh here's how minimum wage varies for few class of employment i.e. job type.
| Class of Employment | Basic Minimum Wage per Month |
| --- | --- |
| Computer Operator | Rs. 3,886 |
| Photo Frame Worker | Rs. 3,370 |
| Weighman/ Kolgari | Rs. 3,757 |
| Security Guard | Rs. 3,700 |
| Type Writing Instructor | Rs. 4,302 |
| Clerk/ Bill Writer | Rs. 4,102 |
| Manager/ Sales Manager/ Security Officer/ Computer Programmer | Rs. 5,557 |
| Hair Dresser/ Hair Cutter/ Beautician | Rs. 4,302 |
Source: Simpliance
Personal Loan Amount by Ujjivan Bank :
The minimum loan amount offered is Rs. 50,000 and maximum is Rs. 15,00,000. Of course, bank takes into consideration various factors for calculating the loan amount. But salary of the individual is the key for calculation.
For e.g. Personal loan applicant from Rajasthan earning Rs. 5,500 per month will not get loan of Rs. 15 Lakh.
Tenure:
Minimum 1 year and maximum 5 years. However low salaried individuals requiring personal loan should try to repay the loan amount along with the interest as early as possible, so that the actual cost of loan will be less compared to 5 year because the minimum interest rate is 16.49%; since it is a unsecured personal loan.
Other charges:
Minimum processing fee of Rs. 2,000
Documents required:
Address proof
Salary slip for the last 3 months
Bank statement for last 6 months preferably salary account
Company ID card
PAN card
Passport size photograph
When should low salary individuals ask for personal loan?
If low income earners wants to renovate house, medical expenses, marriage expenses, or are facing an unexpected expense but don't have all the money to meet the expense; the best option for low salary earners is a personal loan.
Since loan amount has to be repaid in a fixed tenure, it is essential to go through the contract and be aware of years of repayment, interest, miscellaneous charges and monthly installment.
Once the loan is approved from Ujjivan Bank, the amount will be deposited in your bank account and you will be able to use that money depending on the need. From that moment on, you will have to start paying it back together with the interest previously fixed.
About Minimum Wage Law in India
According to Wikipedia, minimum wages must be paid to skilled and unskilled workers in every state irrespective of caste/religion or gender. The wages however are not same for each state and city within but the wage ensures that an individual stays in good health, is able to educate himself/family members, has money to meet expenses during the emergency.
The minimum income/wage act was passed in the year 1948 and the wages are revised every 6 months or 5 years; depending on the state.
Author Bio:
I am Nikesh Mehta, owner and writer of this site.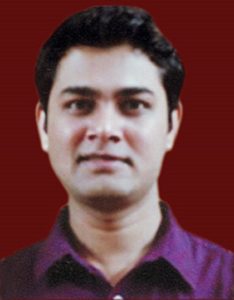 I'm an analytics and digital marketing professional and also love writing on finance and technology industry during my spare time. I've done online course in Financial Markets and Investment Strategy from Indian School of Business. I can be reached at [email protected] or LinkedIn profile.