Hybrid Cloud: 5 Reasons Why Businesses Should Use Now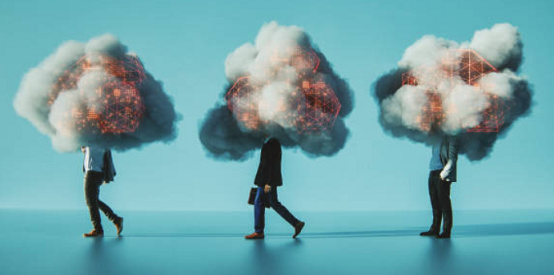 There is always a technological wave. In the 90s it was the Internet, in the 2000s it was the mobile, and this decade is the Cloud, which is changing how companies work, collaborate and grow. Google, Amazon and Microsoft began offering the cloud computing services in the late 1990s.
Cloud computing is a set of infrastructure and application solutions and services that allow organizations to run operations from other servers. In other words, the cloud, as it has been called ever since, is a technology that facilitates remote access to software, file storage and data processing over the Internet, making it an alternative to purchasing servers or installing software or maintaining them.
What does cloud technology offer?
Cloud technology offers easy access to a pool of computing resources (hardware & software) to individuals/businesses and are charged depending on the usage.
Individuals can subscribe required programs for a fraction of the cost per month, get  updates without worrying about frequent software upgrades in their own machines, and be able to share files on the internet in real time. In the case of medium and large companies, they will have unlimited storage, but will pay only for the space they use, saving costs in maintenance and energy.
The cloud is probably the most important trend in corporate technology in the last 10 years. The low cost of cloud services and their easy scalability increasingly strengthens the access to technological tools and solutions, in terms of processes and infrastructure.
Hybrid Cloud
While public clouds belong to the cloud service provider that manages and offers technological resources over the Internet, such as Microsoft, Salesforce, Oracle or SAP; hybrid cloud is made up of servers that belong exclusively to the company or organization using it.
In the case of the private cloud, although the servers can be physically located in the data center of one of the organization's premises or hosted in the offices of an external service provider, the infrastructure will belong solely to the private network, and the hardware and software will be dedicated exclusively to serving the organization.
Why businesses should choose hybrid cloud?
Cloud solutions are beneficial in business-critical operations requiring an advanced level of control over them, which is why the users of this type of cloud are government agencies, governments and financial institutions (banks). It is in this context that the so-called 'hybrid cloud' arise, combining 'the best of both worlds', because they combine local infrastructure with the public cloud to share data and applications between the two.
The challenge of the digital transformation becomes even more complicated if it is carried out over traditional IT platforms. One answer to simplify this path is the hybrid cloud, a combination of Public Cloud and local IT. The hybrid cloud offers a modern, dynamic and agile platform for business solutions, enabling digital innovation with unprecedented flexibility and scalability, addressing not only the needs of the operation, but also the needs of application developers and line of business executives.
5 Benefits of Hybrid Cloud
Organizations, as they need to move more applications to the cloud, are looking for a solution that offers them a variety of platforms with the best price/performance and the highest security/control for IT process management. And that's what hybrid cloud offers.
1. Cost saving: Businesses will be able to scale in the use of resources and capabilities offered by the public cloud. But will only pay for additional computing capacity at the time of high usage.
2. Improved security: While the local platform will access the use of public resources and solutions, the organization will maintain full control of the private network, as well as confidential resources.
3. Improved agility: The mix of public and private cloud deployments allows organizations to move applications, resources and data between public and private infrastructure, depending on the evolution of IT needs.
4. Flexibility: Because it brings together the best of both worlds, critical applications and data can be stored within both to improve user access, increase redundancy and reduce overall risk in the event of a system failure.
5. Innovation and faster production: You have the choice to deploy new applications and tools in on-premise or cloud infrastructure. This gives the IT team more control over deployment when new projects need to be launched.
Author Bio:
This article has been written by Chandra Mehta.
Chandra is a seasoned banker with 35+ years of experience in banking and financial services industry. He's a retired banker and has served as Chief Manager and Assistant Vice President in State Bank of India/or its subsidiaries. He has authored many articles on this site (allonmoney.com).
He can be reached at [email protected]. You may also visit his LinkedIn profile.