Suraksha Bima Yojana: Application/Consent Form
Pradhan Mantri Suraksha Bima Yojana (PMSBY) which is India's cheapest accident insurance policy was launched on 09May 2015 by Prime Minister Shri Narendra Modi. The scheme will offer a cover of Rs. 2,00,000 and Rs. 1,00,000 provided the premium of Rs. 12 is paid every year to the bank. This annual premium would be auto-debited from the savings bank account of the policy holder between 23rd May to 31st May every year. Read in detail about the features of PMSBY.
However banks would need the policy holder's consent for auto-debit, sharing their information with the insurance company and declare a nominee. For this, an individual needs to fill the consent form (displayed below) which is available in English/Hindi and other regional languages.
You can visit the bank where you hold an savings bank account and get the above application form for PMSSBY, fill it correctly and submit. Bank will then provide you acknowledgement slip.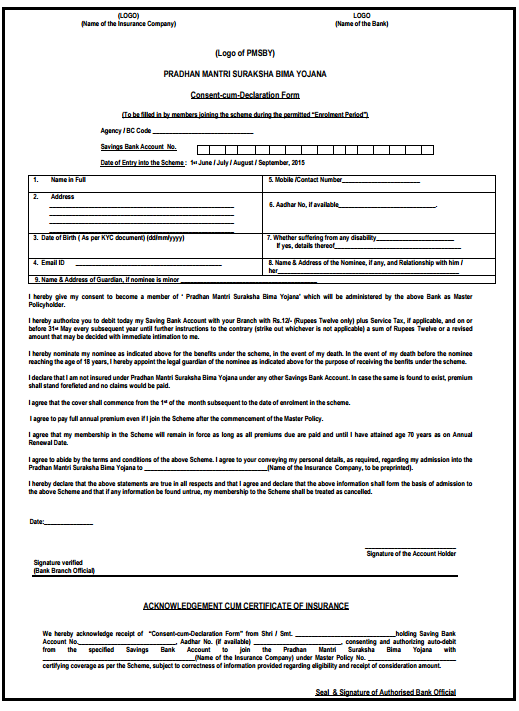 Latest update:
Most of the banks have started sending SMS to their account holders for getting enrolled in the scheme.
Initially the scheme will be valid from 01st June, 2015-31st May, 2016.
Government has urged banks to enrol 10 crore people in the social security schemes which also includes Atal Pension Yojana and Pradhan Mantri Jeevan Jyoti Bima Yojana
After the super successful Jan Dhan Yojana, these three schemes are also assumed to create big financial inclusion and security to the poor people.