Jeevan Jyoti Bima Yojana: Application/Consent cum Declaration Form
Pradhan Mantri Jeevan Jyoti Bima Yojana (PMJJBY) is India's cheapest life insurance policy available for all the Indian citizens irrespective of income earned. In order to insure the life of especially the poor people, PMJJBY is launched which will provide a life coverage of Rs. 2, 00, 000 to the nominee of the policy holder in case of death irrespective of the reason. However the condition is that the applicant needs to have a savings bank account with the banks which are offering this scheme. Those who do not have a bank account can get it opened under the Pradhan Mantri Jan Dhan Yojana (PMJDY) which is a zero balance savings account.
In order to receive the life cover under PMJJBY for the period June 01, 2015 to May 31, 2015 and auto-debit facility, the enrollment period is till 31st May 2015 for which consent form needs to be filled and submitted to the bank. There is no separate application/enrolment form for the scheme. The consent form itself is a application form.
How to get the form:
Visit the bank where you hold the savings bank account and ask them to provide the form. At the same time you can also ask for Suraksha Bima Yojana form.
The form requires the policy holder to:
Permit bank to auto-debit annual premium of Rs. 330 + Service Tax (which is a renewal premium) directly from the bank account. This amount will be debited between 25thMay to 31stMay each year as a renewal payment.
Permit the bank to convey personal details to the group insurance company
Declare nominee who will receive the corpus in case of any death of the policy holder
Here's how the consent form looks like: (The form will remain the same irrespective of the bank you are applying. Only thing will change is the insurance company logo, bank logo and master policy number which would be pre-printed by the banks)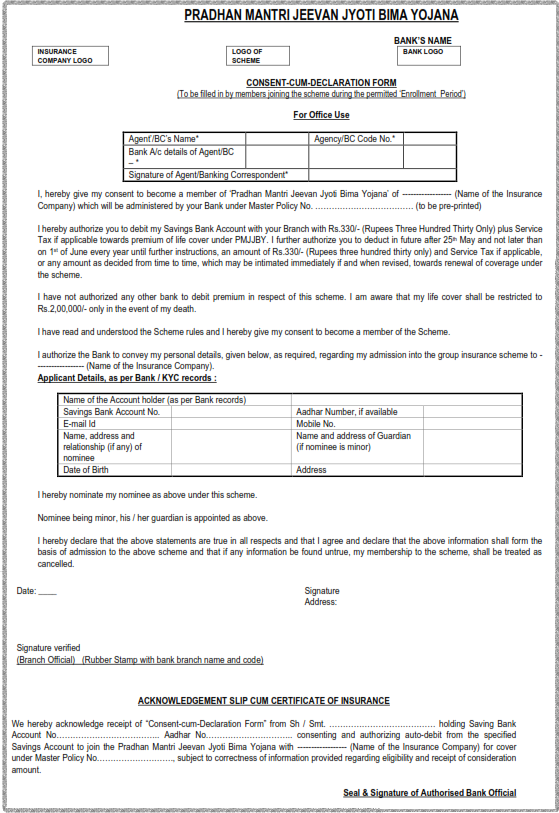 Details in the consent form are as follows:
Policy number
Name of insurance company
Name of the account holder (as mentioned in the bank's record)
Savings bank account number
Aadhar card number (if available)
E-mail ID
Mobile number
Date of Birth
Nominee details: Name, address and relationship (if any) with the policy holder
Name & address of guardian in cases where nominee is a minor
Once above consent form is filled and submitted to the bank official, they will provide acknowledgement receipt with the stamp and bank officer's signature. Read in detail about the features of this yojana.
Apart from PMJJBY, government is also going to launch Suraksha Bima Yojana with an annual premium of just Rs. 12 proving accident insurance cover.