4 Star Rated Waterproof AirPods Case at Lowest Price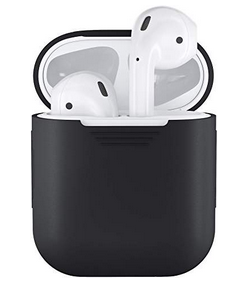 Small is beautiful. And AirPods have proved it. And why not, those tiny superior earbuds with wireless features makes your ears look beautiful. And protecting the same is must especially during rainy season or while swimming or if your holidaying at a place where there is a lot of water. And that's when waterproof AirPods case can come handy and give protection to the lovely looking earbuds.
How to Select Airpod Case:
The best airpods case cover should have following properties:
1) For protecting airpods from water, the case or cover should be made up of durable silicone material.
2) Ideally the material should have a property of repelling water of any type (seawater, rain water, snow, along with dust). This is particularly very beneficial in places where it rains or snows.
3) It should withstand water up to minimum 4 feet deep and for a longer time period.
4) The case material should be strong enough to protect the expensive AirPods from falls and shocks.
5) The accessory should be flexible and adherent. And also resistant to mild scratches.
6) Should be easily carried during activities such as running, hiking, climbing, skiing, fishing, camping, come rain or come shine.
Best brands offering waterproof shock resistant cover for Apple AirPods are:
Catalyst priced at Rs. 2,631 on Amazon.in and at $24.99 on Amazon.com
How to Clean & Care for Airpods and its Case:
Since AirPods are extremely small sized caring for it becomes very difficult. And one of the drawback is that, they get dirty with prolonged use.
However here are some basic precautionary steps you can take to increase the life span of AirPods:
Buy a good quality case and keep them safely in a right position, when not in use.
You should regularly clean them, since they catch dirt very easily especially the white colored pods.
Keep in mind that since AirPods are placed in the ear and they come in contact with the sweat, fat and wax.
So the best ways to clean the AirPods are:
Using an ear bud by slightly moistening with water. You can clean the part of the hinge by putting a little pressure. And then blow when you see the loose dust.
You can also use a soft, dry, lint-free cloth for cleaning.
For cleaning the microphone and speaker grids, use a dry cotton swab.
Remove debris from the grilles with a clean, dry, soft-bristled brush.
Cleaning the AirPods Case
Clean the AirPod box with a microfiber cloth. If necessary, you can slightly moisten the cloth with 70% isopropyl alcohol. It is very important that no liquid enters through the loading ports.
Remove the residue from the Lightning connector with a clean, dry, soft-bristled brush.
Do not use abrasive materials to clean the case.
To avoid damaging the metal contacts, do not put anything in the loading ports.
Here are some of the best AirPods you can buy from Amazon India & US:
Points to Remember When Cleaning the AirPods:
While cleaning, no liquid should enter through the openings.
The AirPods are not waterproof or water resistant, so be careful not to allow moisture to enter through the openings.
If the AirPods come into contact with any liquid, including sweat, wipe them off with a dry microfiber cloth.
Never make use of sharp objects or abrasive materials to clean AirPods.