Ban on Rs. 500 & 1000 Notes: Advantages, 15 Impact Points, How to Return Notes
In one of the biggest reform in the history of India was announced LIVE on television by honorable prime minister Shri Narendra Modi on 08 Nov, 2016 – i.e. Ban on Rs. 500 & Rs. 1000 currency notes with immediate effect. This is one of the most bold decision taken ever. The announcement lasted for 40 minutes and was first addressed in Hindi and then English.
What is the action taken?
Rs. 500 & 1000 currency notes will be banned from midnight of 08 Nov, 2016.
Banks and post offices will remain closed on 09 Nov, 2016. And from 10 Nov onwards people can start returning Rs. 500 and 1000 notes in banks/post offices.
Very soon Rs. 2000 currency notes will be made available for usage. It will bear image of Mangalyan launch. Here's the new Rs. 2000 snapshot: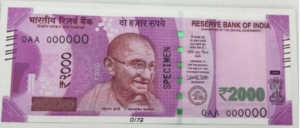 New version of Rs. 500 will also be available for usage by Indian government. Here's the image of the new Rs. 500 currency note bearing red fort in the background:
At max, Rs. 20000 can be exchanged from bank in a week of Rs. 500 & 1000 notes.
The new notes are expected to chip enabled which will store information on how each notes have been circulated.
There is a cap of daily exchange of Rs. 10000 from bank in return of Rs. 500 & 1000 notes.
An individual can withdraw not more than Rs. 2000 per day from ATM. The ATM cash withdrawal limit has been raised to Rs. 2500 per card.
Documents required while asking for exchange is ID proof like PAN card, Aadhaar card, election card from 10 Nov – 24 Nov. Daily exchange limit is capped at Rs. 4000.
Withdrawal limit increased: For current account the weekly withdrawal limit has been raised to Rs. 50,000. For savings account the weekly withdrawal limit has been raised to Rs. 24,000.
Special waiver for farmers: They can withdraw upto Rs. 25,000 per week for crop loans. Also there is a extension given for paying the crop insurance premium to 15 days from the normal last date.
Have you participated in the currency ban survey? Do it now, 90% people say this move was BRILLIANT. Read more about the survey and share your opinion.
Check out latest update on printing of plastic currency notes in India.
Warning by the government released on 09 Nov, 2016: Anyone depositing cash over Rs. 2.5 lakhs threshold between 10 Nov, 2016 till 31 Dec, 2016 could attract tax plus 200% penalty if there is a income mismatch and eventually a case of tax evasion. Every account held by an individual will be checked against the cash deposited. Amount below 2 lakhs is anyways below taxable income and no action would be taken by income tax department on such individuals.
Latest update on demonetization: Government announces Pradhan Mantri Garib Kalyan Deposit Scheme. Black money holders being given another final last chance to declare their undisclosed income.
What would be the impact because of this decision and who is most likely to suffer?
Although the decision is in the favor of the whole country, the impact will be seen on individuals/businesses who accept/use cash only payment mode. This might affect common man the most and economy might get destablise for a while. But it would be for better India.
If someone is getting married/have arranged any function this week/next; will face trouble because cash transactions involving Rs. 500 & 1000 notes won't be accepted.
Those who have limited currency note of lower denomination will have to face trouble while purchasing items like vegetables, groceries, and others. Common man will be directly impacted.
Share market is likely to see the impact because of this decision. Stock prices will shoot higher.
Impact is Rupee will be on a positive side as it will strengthen as the time passes. Inflation will go down which will benefit poor and middle class people.
Indian who are currently travelling to some other countries and won't be visiting India in the next 50 days will suffer. As they won't have option to exchange money.
Investments in gold and jewelries will increase as trust on currency will go down. More people will try to convert paper into gold. It will eventually increase investment in the government's gold monetization scheme.
More and more businesses will be organized those who accept paper money only such as small jewelers, hotels etc.
Rise in plastic money like debit card, credit card, online transactions is evident.
New opportunities will open up for poor and middle class people.
Reach of real estate, education and health care will expand.
Funding for arms, smuggling, terrorism will take a blow. This is most important advantage to the country.
Circulation of counterfeit currency will see the end soon.
Since ATM withdrawal will have limit, it will result in additional charges for those who use it multiple times.
Shortage of Rs. 100 notes will increase.
Those who do not have debit/credit card, online payment services such as internet banking will have to bear some pain.
Read in detail on the effects of currency note ban on Indian economy.
Shared your views on currency ban survey? 90% people have rated the move as BRILLIANT. Read more about the survey and questions to be answered.
Which currency notes have not been impacted?
Notes & coins of Rs 100, Rs 50, Rs 20, Rs 10, Rs 5, Rs 2 and Re 1 will not be impacted.
Why such an action was taken in a short notice?
There is no reason provided by the government for such immediate effect. However the decision was taken to prevent the illegal financial transactions such as fake currency, black money, corruption and money laundering which has been India as a whole for years. Removal of big currency is the first step in preventing illegal financial activities.
This big decision was not taken in a day or two. Lot of research was done in the initial phases to arrive at this conclusion. Moreover according to the estimates by the world bank and various Indian and international agencies, the estimated size of shadow economy in India is near to 20% which has been badly impacting the economy.
Check out the benefits to Indian economy due to currency note ban.
Note: Please avoid exchanging these notes from vegetable/fruit vendor & others who may not be aware of this ban. They will end up taking note from you but may not get an exchange from somewhere else. There is a big section of Indians who are void of TVs, internet and other mediums and may not be updated of this change and the impact.
Get to know the summary of latest happenings across India after the currency demonetization. Do you wish to share your opinion on this move? Participate in the official survey. Read details on demonetisation survey.
Is the acceptance of these notes illegal across India from 08 Nov, 2016 midnight? Where will these notes be accepted?
No. In some government hospitals and medical facilities these notes will be accepted till 11 Nov, 2016. They can also be used for booking bus, train & air tickets at the counters.
Even petrol and diesel station, CNG stations run by public sector companies will accept the notes for the next 72 hours.
Government recognized co-operative shops, kendriya bhandar, ration shops and diaries will accept the notes.
Those who are traveling abroad can exchange the old notes at international abroad. But cap is of Rs. 5000.
How to return the notes held and till what period?
Individuals have been given a time to return the notes either at banks or post office before 31st December, 2016 (total of 50 days). Post that, if someone wants to return the notes, he/she can provide ID proof and submit the notes. But the last date for this would be March 31, 2017.
Currency note holder can also exchange these notes in return of lower denomination notes at designated banks and post offices.
Every opinion counts. Participate in the official demonetisation survey.
This boldest decision is therefore being termed as the BIGGEST SURGICAL STRIKE AFTER INDEPENDENCE. Remember that some decisions are taken for a better future. And this is just the beginning.
Read in detail on the effects of currency note ban.