12 Credit Cards for Students in India or Going Abroad
Everyone wants credit card as the user gets free credit and interest free period every month. However the income eligibility criteria makes it difficult for everyone to own a card. And it becomes more difficult for a student to get a card, simply because they typically do not have an income unless they run a business or do some freelancing or part-time work to earn money. However there are few banks in India offering credit cards for students without asking for income or IT returns.
Features:
Since credit worthiness of the applicant cannot be evaluated because of lack of income, the credit limit offered is less. And this is true as well, as card holder will start learning about making use of money and keep a track on saving and spending.
Benefits:
Unlike others, there is no joining or annual fee
Helps in building credit history right at a very young age
There is no strict requirement for the documents unlike normal cards
No credit history is checked
Reward points and cashbacks are offered. This way student can spend and earn money on spending.
Some banks offer cash points on spending which are different from reward points, which can be used to pay the outstanding balance on your card.
Interest rate is low
ISIC card from HDFC Bank is also accepted as a student identity card
Listed in the below table are the student credit cards along with the issuing bank:
| Sr. No. | Card Name | Card Issuing Bank | Recommended For | Type of Card |
| --- | --- | --- | --- | --- |
| 1 | Student Plus Advantage | State Bank of India | Earning cash points | Credit Card |
| 2 | ISIC Student ForexPlus | HDFC Bank | Access to funds in multiple currencies | Prepaid Card |
| 3 | Student Travel Card | ICICI Bank | Pay fees and meet expenses while studying abroad | Prepaid Card |
| 4 | Multicurrency Platinum ForexPlus | HDFC Bank | For travellers | Prepaid Card |
| 5 | ForexPlus Card | HDFC Bank | For travellers | Prepaid Card |
| 6 | ForexPlus Chip Card | HDFC Bank | For travellers | Prepaid Card |
| 7 | Regalia ForexPlus Card | HDFC Bank | For travellers | Prepaid Card |
In the above table, cards for travelers is also applicable for students as well.
Eligibility Criteria for Students to Get Card
Minimum age of the applicant should be 18 years
Must be attending college accredited by the Government
Documents Required
Birth certificate
Address proof
Student ID card
Photograph
In case of forex card, student is required to produce – appointment/admission/university letter
Identity card of the university where he/she is going to pursue study.
Passport photocopy
What are the other ways through which student can get credit card in India?
Even if a student is not able to get above mentioned credit card or prepaid card there are other options as well to get credit card. Here are two best ways for a student to get credit card.
Against Fixed Deposit
This is an excellent way student (earning or studying) to get a credit card. Especially for an earning student, it is the best recommended option. Applicant needs to open a fixed deposit account with the bank with a minimum amount and then apply for a card. Here are some of the credit cards offered against fixed deposit in India:
| Sr. No. | Credit Card Name | Minimum Fixed Deposit Amount Required | Issuing Bank |
| --- | --- | --- | --- |
| 1 | Payless | Rs. 15,000 | Development Credit Bank |
| 2 | Coral | Rs. 20,000 | ICICI Bank |
| 3 | Instant Platinum | Rs. 20,000 | ICICI Bank |
| 4 | Insta Easy | Rs. 20,000 | Axis Bank |
| 5 | Signature | Rs. 10,000 | Andhra Bank |
Add-on or supplementary card
Almost every card issuer in India offers supplementary card which is nothing but an additional card for the family members of the primary card holder. So if the student's parents/brother/sister owns a credit card and has good credit score, then they can get add-on card for their child/siblings. The credit limit gets shared and is offered mostly free of cost.
Author Bio:
Hi, I am Nikesh Mehta owner and writer of this site.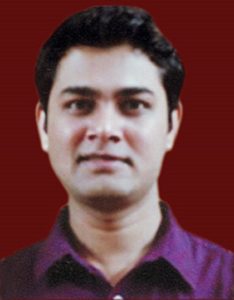 I'm an analytics professional and also love writing on finance and related industry. I've done online course in Financial Markets and Investment Strategy from Indian School of Business.
I can be reached at [email protected]. You may also visit my LinkedIn profile.