Loan against Fixed Deposit FAQ: Amount, Benefits, Tenure & more
When you need instant cash for medical emergency, unplanned travel for an emergency, house renovation, etc. then you have three choices:
Use your own savings (highly recommended)
Ask your friends or relatives
Approach financial institutions for funding i.e. personal loan
Personal loan is most expensive financial service for a borrower and highly profitable for the lender due to high interest rate charged. But there is another type of loan which can be availed
against fixed deposit (FD)
. This is nothing but a secured loan. And interestingly not many people are aware of such a money saving loan product.
Here are some frequently asked questions:
What is loan against FD?
Loan against fixed deposit is a secured loan. The borrower needs to keep his/her FD as a collateral with the lender.
Can I take loan against FD?
Anyone depositing the minimum amount as requested by the bank can avail loan in addition to other eligibility criteria. Most importantly, there is no income and credit score criteria.
Does taking overdraft against FD mean account break?
No. Instead of breaking your fixed deposit and liquidating the savings, you can take loan against it.
Can I get personal loan against existing account or do I need to open a new account?
You can get loan against existing FD account as well or open a new one.
How much loan can you get against FD?
Typically bank offers loan of 80%-85% of the deposited amount. However this percent varies for each bank and borrower needs to keep minimum amount. If your FD tenure is already over 2 years than the amount will be high.
What are the benefits of availing loan against FD?
The most important benefit is low interest rate which is 1%-2% higher than the interest earned on FD. And the interest is charged only on the utilized amount and tenure and not on the whole amount, which is the case with traditional loan. So if your bank is offering 8% on FD then the interest on loan will not be more than 10%. Other advantages are fast processing and disbursal, minimal documentation, flexible repayment options, no prepayment charges, etc.
Will the interest earned on FD stop?
No. This is what attracts small loan borrower as they continue to earn interest.
Can I extend the loan tenure beyond the FD tenure?
No. For e.g. if the FD tenure is 3 years then the loan tenure cannot be more than this.
I have joint FD account, can I take loan?
You can. But both the account holders will have to sign the documents by visiting the bank. But if the account is on a single name then you can apply online.
Should you break FD instead of taking a loan?
In case you want to terminate the fixed deposit account i.e. break, you should evaluate the premature withdrawal charges and interest rate on loan. If the loan required is for a short period of time, which you think can be repaid then go for overdraft. Moreover borrower continues to earn interest on the FD even after taking the loan. However if the loan amount is high and paying back seems difficult then go for premature withdrawal. For any queries, please mention in the comment box and same shall be replied as early as possible.
Author Bio – Chandra Mehta: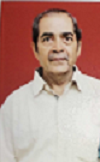 This article has been written by Chandra Mehta.
Chandra is a seasoned banker with 35+ years of experience in banking and financial services industry. He's a retired banker and has served as Chief Manager and Assistant Vice President in State Bank of India/or its subsidiaries.
He has authored many articles on this site (allonmoney.com).
He can be reached at [email protected]. You may also visit his LinkedIn profile.