Borrowing: How to Avoid the 4 Biggest Traps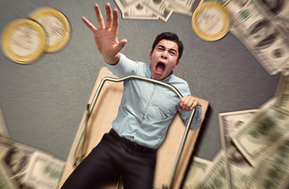 Consumers in most of the countries borrow more and more money from the banks and other financial institutions. And even those who do not want money, fall into the trap of these lenders and end up taking loan for things they don't usually need.
So why people fall into the trap of borrowing and how to avoid?
There are multiple reasons to it and financial institutions are not the reason always, as most of us think. It also depends on the steps taken by borrower during the loan process.
So here are some of the traps which loan applicant should be aware of when applying for any type of loan:
1) Blind trust in banks
If you go to the bank, you usually get exactly one loan offer. That is almost certainly not the cheapest option. Banks face strong competition. As a result, there are significant price differences.
If you don't want to pay too much for the loan, ask for offers from different banks and compare them. Take help of loan comparison portals. Instead of an offer from one bank, you get several offers from different banks with one request. These are created individually for each prospective creditor on the basis of his creditworthiness. The portals sort the offers according to the effective annual interest rate. This helps to find a cheap loan.
2) Assessing creditworthiness by gut feeling
The better your creditworthiness, the lower the interest rates on loans will generally be. If you want to apply for a loan, you should reliably check your creditworthiness before applying and, if possible, improve it. Just google for "credit history check", for example, you will find suitable providers, depending on the country you live in.
Alternatively, consumers can also get a free insight into their creditworthiness at appropriate intervals from credit agencies or comparison portals. The assessment of the credit agencies is, however, only one criterion when it comes to whether a credit application is approved. A balanced budget account and sufficient disposable income also play a major role.
3) Wrong ambition in repayment
The monthly repayment rate is realistic instead of blue-eyed. For a realistic estimate, current monthly expenses such as rent, food and leisure activities should be deducted from the monthly net income. What remains can be used to repay the loan. However, consumers should not calculate too ambitiously and plan for a financial buffer. Unplanned expenses can otherwise quickly lead to problems with the loan repayment. The monthly repayment rate should only be as high as the amount you can comfortably pay on a regular basis.
4) Incorrect or incomplete information when comparing loans
While doing a credit comparison, check information in as much detail possible. Volatile, false or incomplete information falsifies the credit offers.
If, for example, you enter invalid address, it can happen that you receive worse credit offers or no credit offers at all from banks. If you are planning to take a joint finance with a second person, should also indicate this. A second applicant can contribute to a better credit rating and thus to lower interest rates. It is also worth specifying what the money is needed for.
There are special loans for certain purposes, such as buying a car. A car loan is secured by the value of the vehicle. It is therefore often cheaper than a personal loan. In order to find the right loan and a good interest rate, it is worth taking advice.