Personal Loan for Rs.8000 Salary from 14 Banks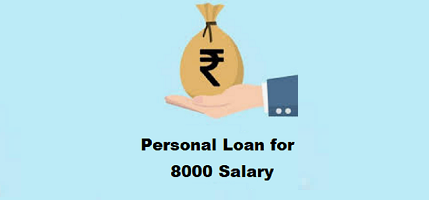 Personal finance/credit are loans offered by financial institutions of a certain amount of money to SELECT individuals. The applicant must pay the amount borrowed along with the corresponding interest that has been generated. On the other hand, the interest will be indicated at the time of applying for the loan and cannot be changed or modified during the duration of the treatment.
The word SELECT means very few individuals are offered personal loan and one of the main reason for rejection of personal loan is the salary of the applicant. Higher the salary, higher the chances of loan approval and vice-versa. Most of the lenders in India ask for minimum monthly income of Rs. 15000 for personal loan.
But there are lenders that offer personal loan for low salary individuals too. In this article we'll discuss about personal loan for Rs. 8000 monthly salary earning individual.
Which lender offer personal loan for Rs. 8000 salaried/income earning individuals?

There are many lenders (nationalized banks, private banks, NBFCs) offering personal loan for 8000 salaried earners.

Listed in the below table are the personal loan providers requiring Rs. 8000 as minimum monthly income. There are few lenders that offer loan which is certain percentage of gross income.


| Sr.No. | Lender | Minimum Net Monthly Income Required | Age Limit | Annual Interest Rate | Loan Amount Limit |
| --- | --- | --- | --- | --- | --- |
| 1 | The West Bengal State Co-operative Bank Ltd. | Rs. 2,000 | 21-60 Years | NA | Rs. 25,000 to Rs. 1,00,000 |
| 2 | The Andaman and Nicobar State Co-operative Bank Ltd. | Rs. 5,000 | 21-60 Years | NA | Upto Rs. 2,00,000 |
| 3 | The National Co-operative Bank Ltd. | Rs. 5,000 | 21-60 Years | 16% – 18% | Rs. 25,000 |
| 4 | City Union Bank (Consumer Loan) for Salaried | Rs. 5,000 | 21-60 Years | 16% | Rs. 50,000 |
| 5 | City Union Bank (Consumer Loan) for Professionals | Rs. 6,250 | 21-60 Years | 16% | Rs. 50,000 |
| 6 | Janakalyan Sahakari Bank | Rs.7,500 | 21-60 Years | 16% | Rs. 5,00,000 |
| 7 | State Bank of India (Xpress Credit Personal Loan) | Rs. 7,500. This loan is only for the employees of state and government, PSUs, selected companies | 21-58 years | 13.35% | Rs. 24,000 to Rs. 15,00,000 |
| 8 | Abhyudaya Co-operative Bank | Rs. 8,000 | 21-60 Years | 13% | Rs. 5,00,000 |
| 9 | Thane Bharat Sahakari Bank | Rs. 8,000 | 21-60 Years | 16% | Rs. 5,00,000 |
| 10 | HDFC Bank | Rs. 8,333 (for Doctors, CA, CS, Architects, Physiotherapist) | 25-65 years | 12.50% to 15.65% | Rs. 75,00,000 |
| 11 | Central Bank | 40% of Gross Salary | 21-58 years | 13.45% | Rs. 5,00,000 |
| 12 | Bank of india | 40% of Gross Income | 21-58 years | 12.95% to 14.95% | Rs. 2,00,000 |
| 13 | Indian Oversees Bank | 50% of Gross Salary | 21-58 years | 15.05% | Rs. 15,00,000 |
| 14 | Karur Vysya Bank | 25% of Gross Salary | 21-58 years | 14.25% to 16.75% | Rs. 10,00,000 |
What is the loan amount offered to Rs. 8000 earning professionals?

Since the monthly income is very less i.e. Rs. 8000; the personal loan amount offered is also very small and varies for each bank, as listed in the above table.
What are the benefits of personal loan for Rs.8000 salary earning professionals?

Like everything else, personal loans also have their advantages and disadvantages.

Advantages:

Fast – You can decide to apply for the money, send the application and receive it in your account in just 15 minutes. That's why they're the perfect choice when an unforeseen event occurs.

Transparent – When 8000 salary earner applies for personal loan, they get all the information without having to dig or read small print.

Collateral Free – There is no need to provide any kind of collateral. However it is recommended for low salaried individuals to apply for personal loan against securities such as fixed deposit, shares, mutual fund, gold, property, etc.

Disadvantages:

High interest rate – Since above listed loan is collateral free, the interest rate charged is very high. Because of this; low salary individual has to shell out very high amount by the time the tenure ends.

Pre-closure charges – Most of the lenders charge a small fee, if loan account is closed before the standard tenure.

Small amount – Since Rs. 8000 salary is required for personal loan; the loan amount offered is also very small. This makes sense considering the risks associated in case of default.
Why secured personal loan for Rs. 8000 salary earner is recommended?

Secured personal loans can become the best answer to financial problems. In general, they are sustainable by collateral, which minimizes risks to lenders, thus allowing them to serve unregistered borrowers or those with poor salary. The reason to place the collateral is to minimize the lender's risks in the event the person defaults on the loan. The lender may offer low rates or approve loans to people with bad credit.

However, in the event the borrower cannot repay the money, the lender sells the financial security to compensate for the lost value.
How much can be purchased with a secured personal loan?

The loan amount for which you are eligible for secured loans is directly proportional to the asset you provide as a collateral.
Is personal loan for Rs. 8000 salaried professional really required?

If the money is really needed, evaluate your condition cautiously to get the right budget figure. Just because financial institutions can propose any amount you need, it's not wise to take it all. You should ask for the exact amount that will solve the purpose. That will not only attract low guaranteed personal loan rates, but it will also speed up the repayment process.
What are the differences between SECURED vs UNSECURED personal loan?

Is a personal loan secured or not? This is a typical question among many people who consider personal finance. Well, if this is the first time you've applied for personal loan, then for your information, there are two different types – secured and unsecured.

And the type you select determines how much you can borrow and the amount of interest.

What is a secured loan?

These are personal loans that require a borrower to have a security or asset also known as collateral, which the financial institution can recover if the borrower is unable to repay the money. It is the safest for financial institutions because it has a built-in cap. Secured loans are the most common. Examples of secured personal loans include fixed deposits, shares, mutual funds, gold, property, etc.

What is an unsecured loan?

This is another type of personal credit. This once needs no collateral, so lenders take a big risk. The lender only takes the borrower's word and believes that the loan will not die. Example of unsecured personal loans include credit cards, etc. When it comes to credit cards, you can buy goods as long as you repay the card issuer when your bill is due. If you don't make payments when you receive the bill, the card insurer imposes high interest rates, and this can be costly to you over time.
So keeping above information in mind, low salaried individual SHOULD make their decisions perfectly and choose the right type of loan that will solve your problem and not leave you in the debt cycle.
Author Bio:
Hi, I am Nikesh Mehta owner and writer of this site.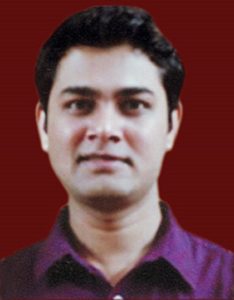 I'm an analytics professional and also love writing on finance and related industry. I've done online course in Financial Markets and Investment Strategy from Indian School of Business.
I can be reached at [email protected]. You may also visit my LinkedIn profile.