5 Crazy Ways to Make Money on the Internet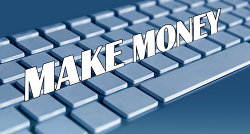 Internet has abundant resources on how to earn money online. But there are crazy ways people make money on the internet, which you will be surprised to know.
So what are those crazy and strange ideas to make money on the Internet that you probably don't know and which lets you earn you a good amount of money?
Here you go…
1) Sell your hair
Your hair can be worth a lot. It may sound strange, but there are people who are making a very decent amount of money by selling their hair locks. Isn't this is a completely different way to make money on the internet?
Many websites specialize in online hair sales. Anyone can advertise on them and wait for customers to bid on those strands of hair that will soon be cut.
But why would anyone buy hair?
Some potential buyers use the purchased hair to make wigs, extensions, and even to beautify their dolls! That is they make money out of it by selling.
The money you get paid depends on several factors, but the average is usually between $400 and $500, although there are some hairs that can reach thousands of dollars. Some features that can help you in this are never having dyed your hair, or used hair dryers or iron.
Few online site that let you sell hair online are – https://onlinehairaffair.com/ and https://hairsellon.com/. You can also Google, online sites to sell your hair.
Other way to sell hair online:
Another great solution is to find online stores that sell extensions and wigs, and contact them directly to see if they would be interested in buying your beautiful locks.
2) Teach how to live life!
This may sound ridiculous, but there are people who want to learn how to have a better life. And the online life coaching job is currently a real paid job, even if the name sounds really strange.
Perhaps this is the best way to earn money online because you can train customers according to your schedules and preferences. And you have total freedom to create the program structure. And interestingly very minimal skills are required, but not any special skill.
Life programs, as they are often called, can range from normal topics, such as losing weight or starting a business, to strange ones like love, sex, or succeeding in dating.
So if you're good at advising others, this can be one of the best ways to make money online by turning your hobby (or skill) into a business.
One of the places where you can sign up to give your courses is on the website Tutor.com, if you live in the United States. And for individuals living in other countries, Udemy.com is ideal.
Although the most usual is to create a website or blog to become this type of trainer where you advertise your services and give information about your courses. The classes can be taught through Skype by video, or chat at the comfort of your home.
3) Letter Writing
If you have a passion for writing, and especially writing letters, you can earn money by writing on the Internet with this creative opportunity!
Websites like Letterrep.com will pay, if your letters are purchased. You can use letters that you have written but have never been published or sent. Or create letters with your imagination especially for the purpose of selling them.
Letterrep.com will pay you $10 every time one of your letters is purchased, and there are hundreds of categories you can write in: from love letters, to adoption letters, to demand letters, vacation postcards, even apology letters!
The small obstacle of this website is that it must be written in English. But if you handle this language well, you can make good money out of it!
4) Sell Used/Unused Items
Will you believe that you are losing money by throwing stuffs? Believe it or not, there are thousands of people who could have paid you for things you've trashed.
It may sound unbelievable, but it's true. There are people who buy all kinds of items to make their crafts, such as corks from wine bottles, or cardboard rolls of finished toilet paper. So before you throw something in the trash again, think about it, because you could be losing a lot of money.
These items are usually sold in bulk (instead of units) on websites such as Etsy, or Ebay. For example, every 30 rolls of toilet paper you will get paid about $20, and for every 20 bottle corks, the amount ranges from $25 to $30 on these pages.
It's not a lot of money, but how much do you earn by throwing these objects away because you think they're useless? Exactly, the answer is zero. So although the amount is small, this can be a good way to make money online, even if it's just a few extra dollars at the end of the month.
5) Sell your old magazines/books/catalogs!
Many people may be aware of this crazy way of making money online. But for those who don't know, there are people who buy old books.
It may not be the best way to make money online, but it will earn you decent dollars. Even if you have very old phone or books at home, you may make more money than you think, because there are buyers who will be happy to buy it for a very high price.
And the same goes for magazines, or even clothing brand catalogs.
So search your home for these paper items, see if they could be sold for a good price, and look for websites like Ebay, or even antique websites in your country that might be interested in your magazines, guides or catalogs, and sell them. It seems strange, but it's one more way to make money online!