4 Ways for Indian Women to Earn Money from Amazon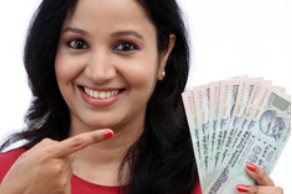 If you are Indian women and dreamed of receiving passive and recurring income on the internet, then Amazon-India is one the best solution India could ever had especially for Indian women who are not working but want to support herself or their families financially.
Amazon is the largest online market place in the world and the most trusted companies in the world. And on the other hand, it offers great opportunities to do business and earn a living. Many people around the world depend on Amazon to earn additional or full time income.
So how can Indian women (men too) can earn money from Amazon:
There are four ways to generate income from Amazon-India, a fully owned subsidiary of Amazon, Inc. In India, they offer eCommerce service through their platform – https://www.amazon.in/.
So here are the options:
1) Amazon Flex
Imagine earning supplement income of nearly Rs. 16,000 per month, working just 4 hours a day. That's what Amazon Flex, the latest money making opportunity from Amazon-India has to offer.
This was announced on 13th June2019. Basically Amazon will pay Rs.120-Rs.140 per hour, and you will have to deliver Amazon products to their customers. The objective of Amazon is to speed up the delivery and reach every corner of mega cities of India i.e. Mumbai, Delhi and Bengaluru. By partnering with Flex, you will eventually become their delivery partners. And your job will be to deliver products purchased on Amazon to the customers using your own vehicle (2 wheeler, 3 wheeler, 4 wheeler).
Although Amazon has it's own partners to deliver their products but these partners cannot service to the remotest places of these cities speedily. But with Amazon-Flex, this will now become possible as their delivery partners will be located in inner most locations within these three cities. Pincode of the delivery partner will make this possible.
Payment will be done every Wednesday into the bank account you provide for direct deposit. Also you won't be receiving the complete amount, as 1% with-holding tax as per Government of India's regulation will be deducted by Amazon directly before disbursing the payment.
So anyone (men or women) interested in part-time money earning opportunity, will have to join Amazon Flex program, by downloading their Flex App.
You will have to build your delivery schedule, specify the location you will deliver (enter pincode), bank account details, and other details.
But remember, you will be working for the world's largest eCommerce company and getting part-time job is not that easy. Amazon will do a thorough back ground check of each application received for becoming delivery partner. This verification will be done by third party security services company. PAN card is mandatory in order to become the partner. And you cannot created multiple accounts. But remember that Amazon will not pay separately for the fuel.
You can get app in the following two ways:
Visit https://logistics.amazon.in/app/download-app/ on your mobile phone browser.
Visit https://flex.amazon.in/ and enter details as shown in the below image:
For any issues, you may also E-mail – [email protected].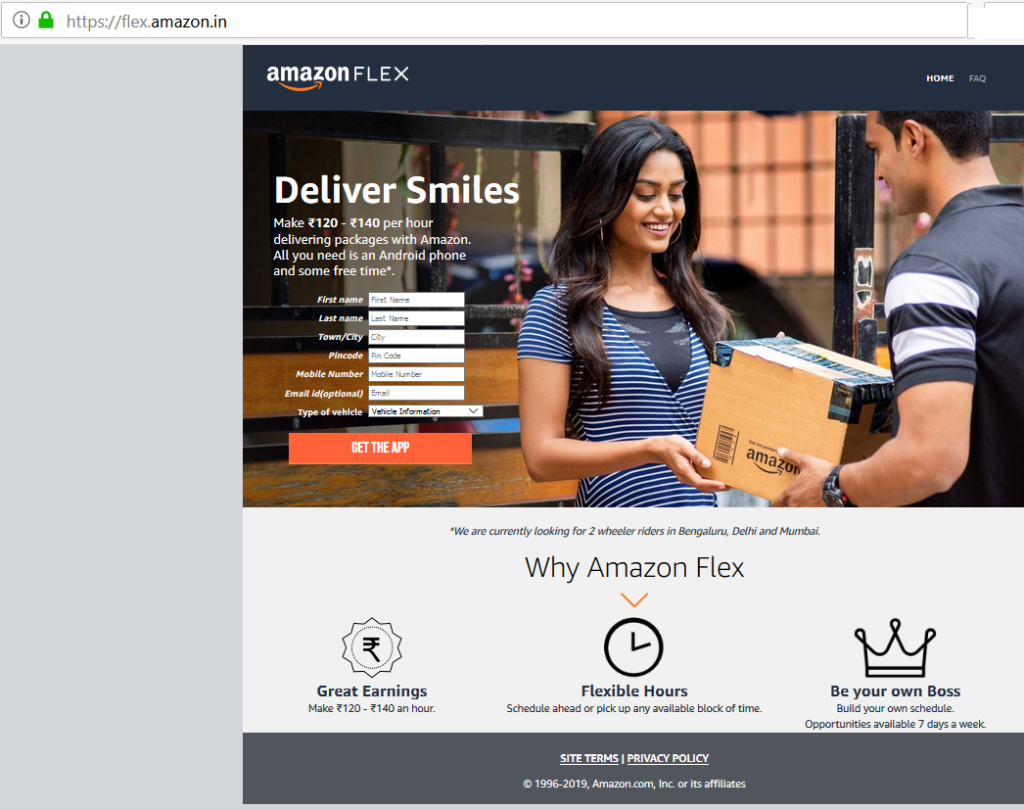 Delivery partner may not seem to be right profession for women. But why not forget the tag of "delivery partner/agent" and give this authenticate way a try and start earn money. If India can have lady bus conductors, businesswomen, taxi drivers, etc. then why not delivery partner. Don't think yourself as a courier agent. It may be a physically laborious job, but you can deliver products of any size and weights.
2) Sell eBook on Amazon
If you like reading/writing then this passive income method is definitely worth trying. Self publishing a book via Amazon's is one of the easiest and best ways for Indian women to earn money (supplement or full-time) as there are millions of readers across the world seeking interesting reads and Amazon is the dominating company in book market as well (they are the undisputed king in eCommerce).
The most difficult thing will be to write the book. But once you have it written, for example in Word/PDF, Amazon offers you a platform called KDP (Kindle Direct Publishing) where you can upload your document and the tool itself will do a conversion process to the format they use to deliver e-books to their buyers.
Note that, Amazon wants to sell books at very cheap prices and offers two royalty options 35% and 70%. Royalty is the percentage of the selling price of the book. The difference will go into Amazon's pocket. Royalty rate depends on the book price. Choosing a 70% royalty rate is highly recommended. After specifying the price of your book in INR, it would be adjusted based on the US price. Most e-books are priced $2.99-9.99 i.e. nearly in the range of Rs.200-Rs.650.
3) Amazon Affiliate
Finally, one of the oldest method to earn money from Amazon is affiliate marketing.
But what is affiliate marketing?
To put it simply, promoting a someone else's product (link/banner) on your blog, or app or Youtube channel or on social networks. And if someone visits any of these mediums and clicks on the product advertisement and purchases the product, then you get certain percentage (a commission) of the price of the product sold.
So in case of Amazon, if you place an affiliate link (basically advertisement offered by Amazon) on your website or app or social media page. And when a visitor clicks on the ad and buys the product or service (this product or any other product after clicking on your ad) from Amazon. Then you will receive a commission, which is certain percent fixed by Amazon which varies for each product category. For e.g. If you promote apparel's ad of John Miller shirt and someone buys product with total amount of Rs. 5,000; then you will get commission of 9% i.e. nearly Rs. 450.
Amazon membership is the most authentic source of passive income available in almost every country. Affiliate links can be placed in many places. All you need is a website or mobile app or social media page and join the Amazon Associates Program to start generating revenue. Becoming an amazon affiliate is completely free of charge.
It is then up to you to place product links/banner to earn a small additional income and work on your site/blog/app to increase visitor base. So higher the number of products or high priced products you sell through your site, higher would be the earning. Depending on the type of product you are promoting, they will pay you between 3 and 12% commission.
The best way to make money with Amazon affiliate is to create niche sites/apps. If you have a passion for coffee, you may sell some related products such as coffee powder, vending machine, etc. In fact, you can sell any product, but it makes perfect sense to sell something which is related to your site/app.
4) Sell on Amazon
If you create your own products (e.g. handmade pots, artworks, etc.) then selling online on Amazon is a great option to generate income as your products will be purchased by customers located around the world. Of course, it all depends on the product, it's quality, pricing, etc.
To sell, you can list your products on https://sellercentral.amazon.in/ for free. You can also store your products at Amazon's warehouse (Fulfillment by Amazon (FBA) and they will take care of storing, packaging and shipping.
After your product is listed, if a customer buys it, Amazon will pick, pack, ship and track the orders, and also handle returns and refunds. But remember you will be charged fees for storage and fulfillment. But it perfectly makes sense, since you don't have to put your own money on buying warehouse, shipping, manage headache of refunds or returns, customer support etc. And instead focus on building a high quality products which is easily salable.
Remember, Amazon is a seller and not storage company. So make sure your products are highly salable as they will be on display in front of 350+ million customers worldwide. Finally the money received will be sale price minus deduction of the charges for storage and fulfillment.
Author Bio:
Hi, I am Nikesh Mehta owner and writer of this site.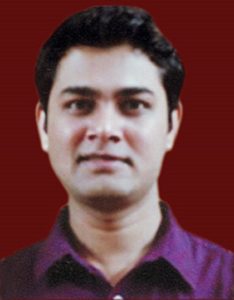 I'm an analytics professional and also love writing on finance and related industry. I've done online course in Financial Markets and Investment Strategy from Indian School of Business.
I can be reached at [email protected]. You may also visit my LinkedIn profile.