PMVLK Scheme: Benefits, Registration Process, CELAF Form
Pradhan Mantri Vidya Lakshmi Karyakram (PMVLK) was announced on the occasion of Independence Day 15th August 2015 by India's honorable Finance Minister Shri Arun Jaitley. The objective is to make educational loan available to every student with ease, i.e. they should not face the barrier of lack of funds for pursuing education. To make this possible, online portal "https://www.vidyalakshmi.co.in/Students/" was launched.
Benefits of PMVLK Scheme:
It is a single window platform for the students seeking educational loan or scholarship.
Through this website, student can search for various educational loan and scholarship providers, make application and track the status online.
Loan application can be made for studying within India and abroad.
You can apply for any type of course i.e. under-graduation, post-graduation, professional and vocational course.
How to Register on Vidya Lakshmi Portal?
The registeration process for Pradhan Mantri Vidya Lakshmi Karyakram is very simple and requires student to fill following details by clicking on the "Register" link on the website:
Full Name
10 digit mobile phone number and E-mail ID
Password should be between 8-14 characters consisting of alphabets, numbers and special characters. Most importantly, E-mail and password should not match.
Once the above details are successfully added and submit button is clicked, registration successful page will open. And henceforth, student can start using the portal for educational loan search and application.
How to search for loan:
For this, you need to login and the system will open your personal dashboard. You can then search for loan by following three criteria: Location, Course, Required Loan Amount. Once you specify your requirement, list of banks will be displayed along with the name of the loan. From here, you can click on Apply button for the respective banks. The system will ask you to fill an online form (CELAF form).
Loan application process:
In order to apply for loan, student has to first fill the CELAF form.
Details required for the CELAF form:
This online application form is very long so take your time to fill. You need to enter following details of yourself (i.e student), parent/husband and co-obligant/guarantor. So make sure you keep everything handy. Refer below image of the CELAF application form: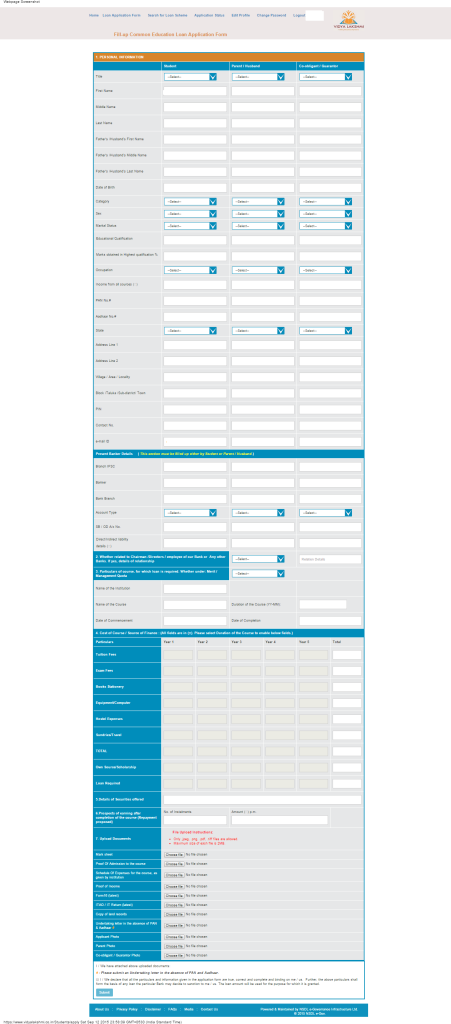 Personal Details: Full name, date of birth, caste category, sex, marital status, educational qualification, % of marks obtained, occupation, income from all sources, PAN number, Aadhar number, state, full address, contact number (registered mobile number).
Bank Details: Bank name, branch, IFSC code, account type, account number, direct/indirect liability details.
Any relationship with the bank's chairman, director, employee and the relationship details.
Course details: Whether loan application is for merit or management quota, name of institution and course, duration, date of commencement and completion.
Cost of course (in INR) for each year: This includes fees for tuition, exam, stationary, equipment, hostel, sundries/travel, own source/scholarship, loan amount required, details of securities offered, repayment proposed – (i.e. how will you pay after course completion – number of installments, amount per month)
Upload documents: (File limit for each is 2MB and type can be .jpeg, .png, .pdf, .tiff only): Mark sheet, proof of admission to the course, expense schedule for the course as provided by the institution, income proof, latest form-16, IT return form, copy of land records, undertaking letter in the absence of PAN/Aadhaar, photograph of applicant and parents, co-obligant or guarantor photo.
Once above six details are provided correctly, check the declaration option at the bottom and click on SUBMIT button. Your application will be then seen by respective bank and they can download the applications. The banks will then review all your application details and status will be updated on your personal dashboard of PMVLK website. If banks require more details from your side then the same will be displayed in the remarks column. Check out 13 reasons for education loan rejection.
Loan application limit: Maximum 3 banks.
Is the Vidya Lakshmi Portal system secured?
When it comes to internet, the most concerning factor is the security of your data. But the Pradhan Mantri Vidya Lakshmi Karyakram portal is https secured. So student's details are 100% secured.
How PMVLK fares compared to the existing educational loan process:
As of now the loan process is time consuming and tedious. i.e. student and their parents have to personally visit each bank, submit documents, wait for the bank's decision and so on. Whereas through this portal there is no need to visit banks separately. Right from searching a loan provider, making an application to banks, to getting a loan will be online (VIEW, APPLY AND TRACK). And all the details will be available on the dashboard.
List of Registered Banks providing loans under Vidya Lakshmi Scheme:
As of 12th September 2015, 20 banks have listed for providing educational loans and 34 loan schemes are available and here is the list of some of the prominent banks:
State Bank of India
IDBI Bank
Bank of India
Canara Bank
Union Bank of India
Allahabad Bank
Bank of Maharashtra
Syndicate Bank
Central Bank of India
Kotak Mahindra Bank
Vijaya Bank
Andhra Bank
Features:
Portal development and management is carried out by NSDL e-Governance Infrastructure Limited.
Students can also add their feedback related to any of the process, portal etc.
Expectations from Pradhan Mantri Vidya Lakshmi Karyakram (PMVLK) are very high as it is a part of National Skills Development Mission.
Read about Pradhan Mantri Kaushal Vikas Yojana (PMKVY) which aims to make India a skill capital of the world.