Atal Pension Yojana: Subscriber Registration Form
Atal pension yojana with an objective of providing monthly pension to the citizens from unorganized sector of India was declared during the union budget of 2015-2016. The condition is that the citizen should not have any other formal pension benefits. The scheme aims to generate corpus for retirement.
Atal Pension Yojana subscriber form is very simple and contains following fields:
Bank Details:
Bank account number
Bank name
Bank branch
Here is the snapshot of the form: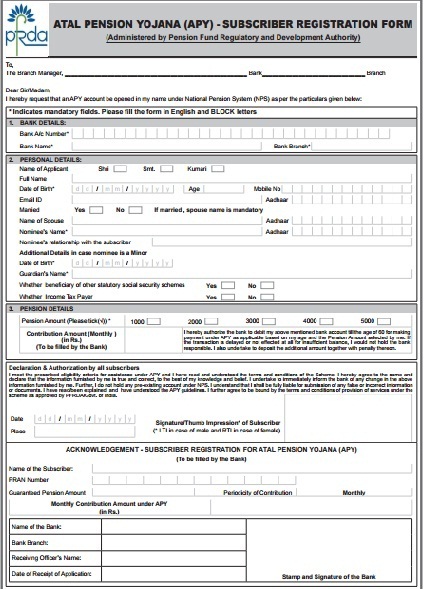 2. Personal Details: Full name of the applicant (first name, last name and middle name), date of birth, age, mobile number, E-mail ID, Aadhaar number, marital status
3. Full name of the spouse (first name, last name, middle name)
4. Full name of the nominee (first name, last name, middle name)
5. Relationship with the subscriber
6. If nominee is a minor, date of birth and guardian's name
7. Whether you (i.e. subscriber) are a beneficiary of any other social security scheme
8. Whether you are a income tax payer
9. Pension Details: How much pension you wish to receive after 60 years: Select as per your need: Rs. 1000-Rs. 5000. Check out the pension and contribution chart for APY
Once all the details are entered correctly, you need to mention – date, place and provide signature/thumb impression. If you are a male, provide left thumb impression. If female, provide right thumb impression.
Finally you will receive, acknowledgement receipt containing following details:
Subscriber's Name
PRAN number
Guaranteed pension amount
Period for which contribution will be made
Monthly contribution amount
Name of the bank
Bank of the branch
Receiving officer's name
Date application was receiver by the authority
Keep this acknowledgement slip with proper care as you might need it any time in the future. Best is to take a picture and store it as a soft copy. Read more about the features of APY.
If someone is a subscriber of Swavalamban scheme then that individual would be automatically migrated to Atal Pension Yojana unless they opt out.