PAHAL Scheme: Benefits, Joining Form to Get LPG Subsidy
PAHAL (DBTL) Scheme for LPG Subsidy
Pratyaksh Hanstantrit Labh (PAHAL) scheme also called as Direct Benefit Transfer for LPG (DBTL) was launched to provide liquified petroleum gas (LPG) cylinder of Bharat, Indane, HP at subsidised rate to the Indian consumer. This will mark an end to duplicate or misuse of LPG connections which are very common in India. Customers who get enrolled in PAHAL scheme are referred to as Cash Transfer Compliant (CTC). Last date to join the scheme is 31stMarch 2015
Benefits to the consumer
Once the customer is enrolled in PAHAL and books cylinder for the first time, he/she will get cash subsidy (Rs. 568) as an permanent advance directly into
their bank account which can be used to pay for the first cylinder.
This advance then can be used to buy 12 LPG cylinders weighing 14.2 Kgs OR 34 5 Kgs cylinders. Subsidy amount = Current subsidised rate – market price. This difference amount is credited to the customer's bank account.
New LPG's would be available in the market in a much simpler way as compared to previous process as back logs would be reduced.
How to get LPG cylinder at subsidised rate?
Those to want to get enrolled into PAHAL scheme to get gas cylinder at subsidised rate should have either Aadhar number or an active bank account.
Hurry, those who do not have bank account, can open zero balance account under Pradhanmantri Jan Dhan Yojana (PMJDY) which offers many benefits.
Aadhar card holder should get Aadhar number linked to the bank account in order to avail the subsidy amount.
Individuals meeting above mandatory requirement, then needs to link Aadhar number or bank account number to the 17 digit LPG connection ID.
For linking, individual should approach his/her area's LPG distributor who will then save these details in their computer system.
PAHAL Scheme Joining Form
It's a one page form and looks like below (due to space constraints, I've split it into 2 images):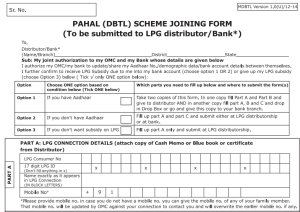 There are 3 sections to be filled as mentioned below depending on which option you've checked from 1-3.
Part-A: Put your 17 digit LPG consumer number/ID and exact name as mentioned in LPG connection. You can get this number from blue book or cash receipt of the gas cylinder.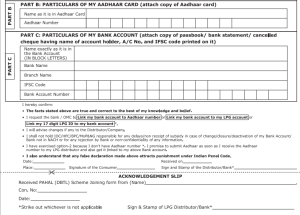 Part-B: Mention your 12 digit Aadhar card number
Part-C: Mention your bank account details. Details of LPG connection holder's and bank account should match. Otherwise your application will get rejected. Details required are:
Bank account number and branch name
Account holder name (this should be same as mentioned in your LPG book)
IFSC code of the respective bank
Sign on the declaration by entering date and place. Finally you'll get an acknowledgement slip.
Other documents required: Photo copy of Aadhar card, LPG bill or blue copy with your 17 digit LPG consumer number and one cross check in the name of LPG distributor.
How to track status of your enrolment?
LPG consumers who have provided their mobile numbers with their distributors when they join PAHAL scheme will receive SMS about the status. So make sure to provide mobile number while filing joining form. Also read about parking period under PAHAL scheme.
How to opt out of DBTL scheme
It is very easy procedure. In order to do this, you need to fill subsidy surrender form and give it to LPG distributor.