Opt Out of Subsidy – Surrender LPG Subsidy: Online & Offline
Indian government has launched new initiative "Opt Out of Subsidy and PAHAL DBTL Scheme" asking Indians who can afford to buy LPG at the market price to contribute voluntarily and opt out of LPG subsidy and instead purchase LPG at non-subsidized rate. The subsidy amount which is nearly Rs. 200 per cylinder can then be used for various projects/initiatives for the nation building such as – infrastructure development, health care services, help poor people and many others. It is estimated that subsidy of Rs. 46,000 crore will be reduced by targeting nearly one crore people. So far nearly 3 crore people have opted out resulting in a saving of Rs. 100 crore.
Also the main objective of subsidy is to make LPG available to the poor and needy people.
How to Surrender LPG Subsidy
There are two ways to surrender your LPG subsidy – Online and Offline. And both the processes are very simple.
Offline Way to Opt Out of LPG Subsidy:
If you want to surrender LPG subsidy offline, then you have to fill form-5. You can get this form from the gas agency where you have the connection. After filling the form, you need to submit it back to the agency. Upon verification of the details, subsidy will get surrendered. Here is the image of the form-5: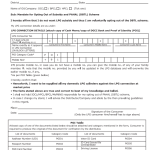 Surrender LPG Subsidy Online
Here are the steps to opt out of subsidy online:
Visit the official website http://www.mylpg.in/
Click to Give Up LPG Subsidy Online at the top
This will prompt you to select your service provider: Indane/Bharat Gas/HP
Once you select your provider, it will lead you to the respective website of the service provider
If you're a registered user, enter login ID and password and enter captcha and click on login button. But if have not registered, then enter your LPG ID and enter the captcha. If you do not know, your LPG number then step to get it is also available on the website.
Now in order to opt out of LPG subsidy, you will have to provide required information about your connection. Keep gas connection form handy so that process will be faster. Finally message will be displayed that "You have successfuly surrendered your LPG Subsidy".
Customers who opt out can also make their name listed on "Scroll of Honours" on the website. And name, consumer number and other details will be seen online on the website.
How LPG Subsidy is Given:
LPG consumers receive LPG subsidy through DBTL (PAHAL Scheme) directly into the bank account.
To further motivate people to give up the subsidy, gas company will send SMS citizens of India to join the group to surrender the subsidy. So help to build INDIA!