Open e-Insurance Account: Online & Offline, Documents Required
The mission to make India digital is going at an excellent pace. Every industry is working towards going digital and making their customers life easy. Insurance is one of the sector which is already online but further advancements are taking place in this ever growing sector. The latest one is the e-insurance account (eIA).
Objective of eIA:
Insuring yourself and your assets is very essential. However what's more important is getting access to these details whenever required. Currently you have to carry all the original insurance documents in case of demise of the insured or for any other purpose. And also there is a risk of loss of original documents/misplacing them.
And understanding this pain point, insurance regulator-IRDA has introduced e-insurance account or electronic insurance account for all the policy holders.
The objective of e-insurance account is to make life of policyholder easy by facilitating them to manage their policies in electronic form. Check out benefits of eIA.
How to open e-Insurance account – 2 Ways?
There are two ways to open electronic insurance account:
Fill account opening form online: Visit

https://nironline.ndml.in/NIR/onlineEiaApplicationHome.html.

You need to enter applicant details and bank account details.
Fill form offline i.e. manually: Visit

https://nir.ndml.in/pdf/ndml-form-opt2.pdf

and download the form.
What are the details required while filling the form: online or manually?
Table below shows list of items to be filled, along with the snapshot of the form
| | | | | |
| --- | --- | --- | --- | --- |
| UserID & PAN No./UID | Applicant Full Name & Father/Husband Name | Gender & DoB | Address - Permanent & Correspondence | Contact Details - Email ID & Telephone No. |
| Bank Account Type - Savings or Current | Bank Account Number | Name of Bank | Branch Name & City | MICR or IFSC Code |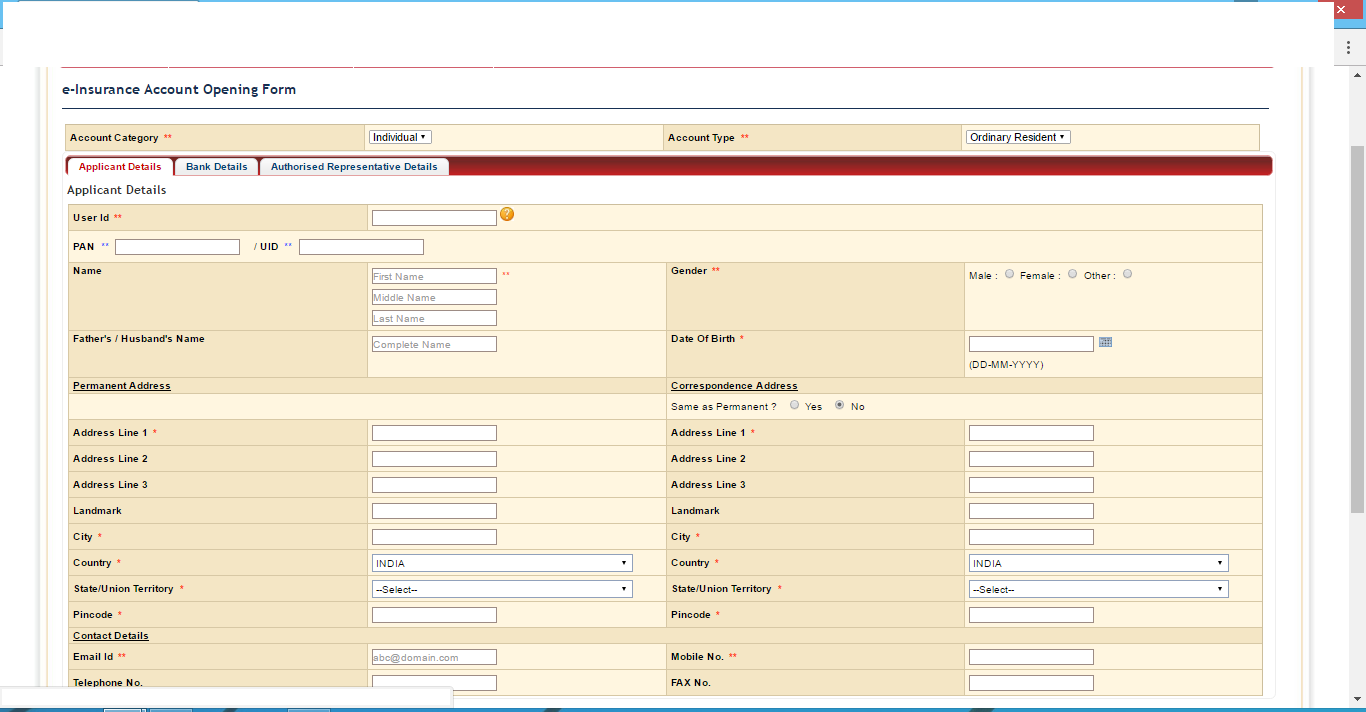 All the details are self explanatory.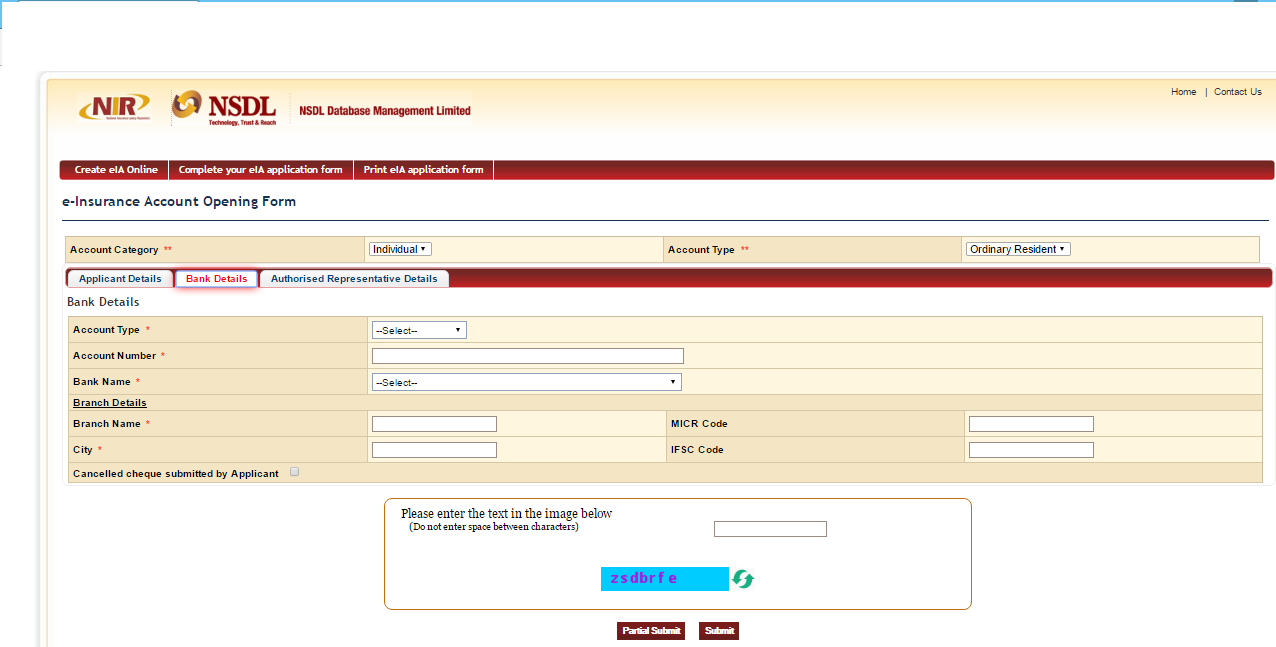 User-ID is the login-id of the einsurance account holder.
What to do after you submit the form online?
Once the form is filled online, you will have to take print out of the completed eIA form. Sign it, paste your passport sized photograph and submit the form along with a cancelled cheque & KYC details to the nearest approved person appointed by IRDA. These approved persons work on the behalf of IRDA. You can also visit any branch of your insurance provider and submit the form.
Where can I get list of approved persons for eIA account details verification?
If anyone wishes to know the list of approved person by IRDA, then they can visit this official list. https://nir.ndml.in/ap-details.htm.
What is the role of the authorized representative?
They act as verification agent for the eIA form and the KYC details submitted. Once they review all the details, they will send the insured person's application to the insurance repository for processing.
Another objective is to access the account in an event of the insured's death or when he/she is not in a capacity to operate the account online.
What will insurance repository do upon receiving the application?
They will open the e-insurance account, send e-insurance account number (eIA number), login-id, and steps to set up the password. For setting the password, visit this official link.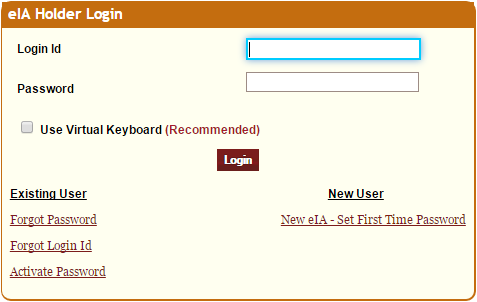 Enter eIA number and date of birth. And click on generate OTP. The applicant will receive the OTP on the registered mobile or E-mail ID. Once OTP is keyed-in, password will be set.
The insured person can then access their eIA account by visiting https://www.nir.ndml.in/
Documents required along with the eIA form:
Passport size photograph
Cancelled cheque of the bank in which the claim amount will be transferred
KYC documents: ID and address proof
Date of birth proof: PAN card, driving license, voter ID card etc. For details check this link enlisting all the required documents.
What types of insurance can be consolidated?
As of now, only life insurance policies can be converted into electronic format. But very soon IRDA will make health, motor and other forms of policies under eIA.