Jan Dhan Yojana: Benefits, How to Open, Documents Required
What is Jan Dhan Yojana (Bank Account for Every Indian)
Pradhan Mantri Jan Dhan Yojana (PMJDY) is an initiative implemented by Honourable Prime Minister of India Shri Narendra Modi on completing 100 days.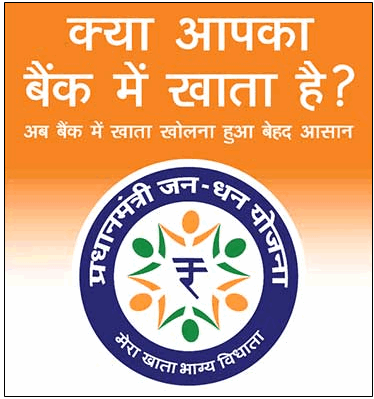 The target is to provide bank account to every Indian household. This would be a normal savings bank account. The Yojana would be implemented in phases as follows:
Phase-1: 28 August 2014 till 15 August 2015
Phase-2: August 2015 till August 2018
Benefits of Jan Dhan Yojana
There are many benefits of Jan Dhan account for the Indians:
It is a zero balance savings account.
Account holder will receive a kit containing cheque book, financial literacy and pass book. However this would vary from bank to bank and account usage.
Every account holder will get RuPay Debit card (which is India's domestic debit card) included in the welcome kit. You can read benefits of rupay card here. RuPay card can also be used for eCommerce transactions.
Person will also get Aadhar number on the spot.
Family of account holder will get accident insurance cover of Rs. 1,00,000.
Life cover of Rs. 30, 000 was declared as an incentive for those opening the account by 26 January 2015. This life cover would be provided by India's largest insurance company – Life Insurance Corporation of India. Read more about the terms and conditions for availing insurance benefits and life cover eligibility
Overdraft (loan) facility of Rs. 5000 would be provided once account holder completes 6 months and has kept account active. Get detailed information on what is overdraft and it's eligibility.

Loan amount would be increased to Rs. 15,000 if repayment is done on-time by the person. Ofcourse this would depend on each bank.
Overdraft facility would benefit individuals who had been relying on money lenders charging high interest rates.
However in order to avoid overdraft frauds, only Aadhar linked accounts would be eligible for overdraft facility.
Farmers dependency on money lenders would reduce as they've been relying on money lenders especially in rural areas. Once trapped by money lenders, whole family's future is ruined.
Mobile banking would be available and technical platform will be built connecting all the banks and telecom operators so that customers can access mobile banking facility with ease.
Account holder will also get interest on deposit and access to pension and insurance products
Money transfer can be done across Indian bank.
Account transfer from one branch to another is also possible since all the accounts opened are through core banking system (CBS).
Read FAQ's on PMJDY along with their answers.
Documents required for account opening
Address proof either current or permanent.
If address changes then person needs to submit fresh address proof to the bank. You can read more about the recent know your customer (KYC) norms changed by RBI.
For persons with no valid documents, the account can still be opened by providing self attested photographs, signature/thumb print in front of bank official.  Such account is called Small Account. Read more about this here. However this small account would be valid only for 1 year post that person will have to provide official valid documents which include: Passport, Driving License, PAN card, Voter ID card, Aadhar card, Ration card.
2 passport size photographs
Eligibility/Age Limit: Any minor with age above 10 years can open the account.
Also check out the details applicant needs to fill in PMJDY account opening form
Targets:
Most of the public and private sector banks have set an ambitious target of opening over 1 lac account on day-1. Check out list of banks where you can open account
Target of opening 7.5 crore bank accounts in the next few years
Officials from public sector banks (senior employees) will conduct camps and encourage people for opening the bank accounts. Over 60,000 camps would be organized on day-1
Prime minister has sent over 7 lakh E-mails to banks to inform them about PMJDY
Phase-2 would include micro insurance and pension schemes
Also read about world record set on day-1 of Jan Dhan Yojana launch and challenges ahead.
Check out how you can send money on mobile phone. And withdraw money even when you have no ATM debit card. An excellent facility offered by Indian banks.
Read an interesting discussion between a banker and poor family and how the banker succeeds in convincing them to open the bank account.
Read 17Dec'14 update on getting accident insurance benefit without opening bank account under PMJDY