Health Insurance for Treatment in Foreign Countries, Cashless
Heartbeat Health Insurance for Treatment in Foreign Countries
Imagine you are staying abroad in countries like US, UK, Australia where treatment costs are high and you get heart attack and have to operated there. In such cases, you will have to shell out money from your own pocket when you do not have health insurance policy for treatment while abroad. But Indians can now get health insurance for treatment in foreign countries. Recently Max Bupa launched "heartbeat health insurance" offering international cashless treatment for their customers who opt for platinum plan.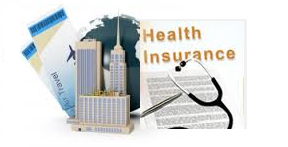 Main objective of launching this insurance is to provide best health care to individuals and their families during their stay in foreign countries.
Here are the features
Premium: International cashless treatment is offered only under platinum plan and premium is INR 50,335 and INR 37, 454 for the cover of 15 lakhs for men aged 45 and 35 years respectively.
Sum Assured: Flexibile sum assured from INR 2 Lacs to INR 1 Crore and additional floater option.
Who can avail this policy: This policy covers individuals and their families – small (2 adults and 4 children) and extended. And most importantly under one policy 14 family relations are covered.
What health problems are covered: Coverage is limited to 9 major health problems – stroke, heart attack, organ transplant, different types of cancers, brain surgery, coronary artery bypass graft, coronary angioplasty, primary pulmonary arterial hypertension. And medical evacuation assistance to the customers.
Pre-existing health conditions: For customers falling under this category, minimum policy amount of INR 5 Lacs and more has to be purchased. Most importantly benefits can be availed only after 2 years of buying this policy which are otherwise covered after 4 years by other insurance companies in India.
Network hospitals: Present across 190 countries
Loyalty points: Loyal customers are rewarded whether they claim or not. For customers continuously renewing the policy, an additional 10% sum is insured.
Exclusions: Dental procedures, congenital condition, circumcision, cosmetic surgery, HIV/AIDS, OPD procedures, psychiatric and psychosomatic problems are excluded.
Hospital room charges: No limit
Tax Benefit: Buying this policy is eligible for tax saving under section 80D
Other Benefits/Features:
24*7 customer support
No third party administrator involved, so no follow-ups for any queries
Personal relationship manager to help during hospitalization and claim settlement
Instant access to the policy holder's claim history, profile via Max Bupa website
Cashless approval within one hour after the policy holder submits all the medical documents
How to buy this global health insurance
For buying this health insurance for treatment in foreign countries, customers can contact Max Bupa on toll free phone number: 1800-3010-3333. You can also contact on: 011-66326666. For mailing address visit here.
Recommended For:
This is a kind of international health insurance and is recommended for:
Employees travelling abroad with no health insurance from their employer
Parents visiting their children abroad for longer duration
Individuals/families visiting abroad for holiday