Sukanya Samriddhi: Invest 140000, Get 526051 (276% RoI)
Sukanya Samriddhi Yojana for a girl child has started getting a very good interest amongst parents as the scheme aims to secure girl's future by offering very good interest rate. The scheme required a minimum deposit of Rs.1000 to start with and maximum of Rs.1,50,000 (1.5 lakh).
So let's see how a deposit of Rs.10,000 every year (starting from the financial year 2015-2016) till 14 years will earn you Rs.5,26,051 which is a whopping 256% return. I've assumed 9.1% interest rate for the whole period which might change and will be declared by the government every financial year.
Here's a table displaying yearly investment and interest amount earned: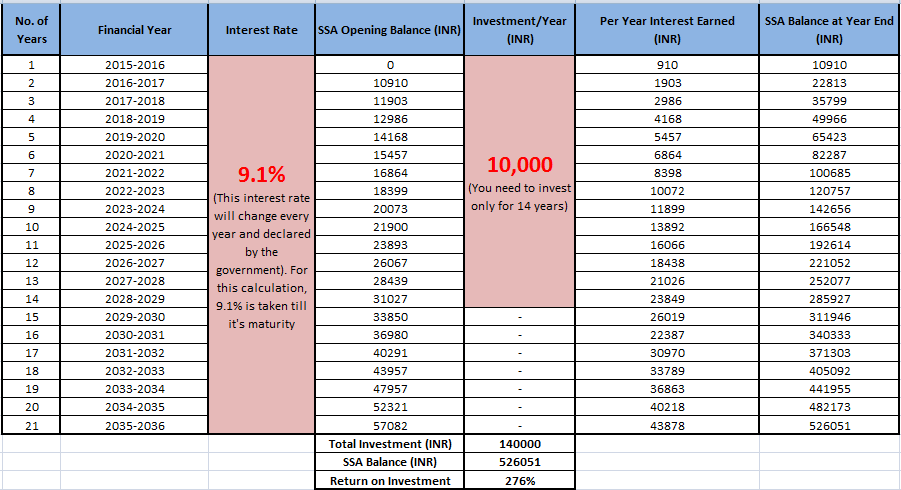 So as you can see how your money grows every year in this small savings scheme. The returns would be on higher as you invest more money considering that you invest for a long term.
Note: You can also start investing in current financial year 2014-2015 i.e. before 31st March 2015 and still get income tax benefit which will help while declaring investment.
One of the biggest benefit which is attracting more and more people to this scheme is that the returns and investments are 100% tax free. Read all the features of SSA. It has been seen that parents are differentiating SSA with PPF since they almost carry similar features. This according to me is incorrect as objective of both these schemes are different. Check out 18 differences between PPF and SSA, which will give you a clear picture.
You can open this account in government post offices and 28 Indian banks
(public & private) authorized by Reserve Bank of India. Also read
how to get application form
available at post offices and the
images of SSA passbook
.