SBI Student Plus Advantage Credit Card: Features & Benefits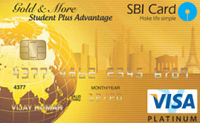 Getting a credit card is very difficult especially when it comes to students since most of them do not have income. And income is the most important criteria taken into consideration by card companies.
So how can students get credit card in India? There are many ways for students to get card and one of the way is card against fixed deposit.
SBI Cards and Payment Services Private Limited (SBICPSL) which is a distinct legal entity, a joint venture between India's largest public sector bank State Bank of India and General Electric Capital Corporation, offers credit card for Indian students called Student Plus Advantage Card.
And here in this article we'll discuss about the features, benefits, disadvantages and much more about the card.
Features/Eligibility:
Card Only for Education Loan Customers: Student Plus Advantage Card is only for students who are current education loan customers of SBI. Meaning, if you have taken education loan from SBI for domestic or abroad studies then only you are eligible to apply for the card.
Card offered only against Fixed Deposit: This is a secured credit card and is offered against FD opened with State Bank of India.
Minimum FD amount: Rs. 20,000 is must in the FD account to avail the card. (Note: Please confirm with SBI for the exact amount, as it depends on multiple factors.)
Credit Limit: The monthly credit limit on this card depends on the amount kept in the fixed deposit account. Typically the limit is 80%-85% of the FD amount. So if student keeps Rs. 1,00,000 (1 Lac) in the FD then the limit offered will be in the range of Rs.80,000 – Rs.85,000.
Age Limit: At the time of applying for the card, students' age should be 18 years.
Benefits:
Build Credit History: Student can start building credit history from a very young age. Although for many of the students, the concept of credit score/credit history may not be very important at this age, but in the future, they will reap the benefits when the credit history is good.
Improve Credit Score: If student had taken any type of credit from any bank but had been a defaulter and later decides to pursue education and applies for Student Plus Advantage Card, then they can get easily by opening a FD account with SBI. And by regularly paying monthly bills on time and keeping spending within the limit, they can improve the credit history.
Add-on Card: If card customer is a honest card user then he/she can apply for a supplementary card for his/her family member. They can add-on card for brother/sister, mother and father. There is no renewal or annual fee on add-on card.
Cash Withdrawal: This card can also be used at ATM for cash withdrawal. However using credit card for cash withdrawal should be avoided as uch as possible. This is because there is 3.5% fee on the amount. Also remember that there is a cap (80% of the limit) on the amount that can be withdrawn. So if your credit limit is Rs. 1,00,000 then you can withdraw maximum Rs. 80,000.
Continue Earning Interest on FD Account: Student can continue earning interest on their FD account even though they are taking card against FD account.
SBI Student Plus Advantage Card is "Money Saver"
There are many monetary benefits offered on this card that can help in saving money. Here's how students can save money:
Zero Annual and Renewal Fee: There is no annual and renewal fee on this card provided the spend made in the previous year is greater than Rs.35,000. This means that if Rs.35,000 or more is spent in the year 2019, then there won't be any annual fee charged in the year 2020. Annual renewal fee is Rs.500.
Cash Points: Earn 1 cash point on every Rs. 100 spent. The accumulated points can be used to pay outstanding bill. So basically student can spend more and save more. Nowadays credit cards are accepted across the world, so there is a higher chance of saving money. However remember that, you need to have minimum 2000 cash points before encashing.
Fuel Surcharge Waiver: 2.5% fuel surcharge by petrol pump will be waived by spending Rs. 500 – Rs. 3,000 every time refuel.
Documents Required:
Since the card is offered only to the education loan customers, there are minimal documents required, since most of the documents are already available with the bank. Other important documents required are:
FD account receipt
Education loan account statement
Photographs
Note: There are no income related documents required, since the card is offered against fixed deposit. For any other documents, please contact SBI.
Charges:
Finance charge up to 2.25% per month or 27% per annum.
Cash advance fee of 2.5% of the amount withdrawn from domestic ATM and 3% at international ATM.
Overlimit charge of 2.5%
Card replacement fee of Rs.100
Currency conversion markup fee of 3.5% in case of foreign currency transaction
2% of payment dishonor fee
Application Process
You need to directly visiting nearest SBI branch.
For more charges visit: SBI official link
FAQs:
What if student is not able to spend Rs.35,000 annually himself but still wants to avoid the fee?
The best solution to avoid annual fee is to let family members make purchases using this card. Since this card can be used for various purchases such as train/flight booking, grocery or departmental shopping, etc. This way, students can avoid annual fee on the card.
What if student is self employed or was salary earner before and now pursuing education. Can he/she apply for credit card?
Yes, provided they are taking education loan from SBI. But such individuals can also apply for various other credit cards from SBI having more benefits and higher credit limit.
Can student below the age of 18 years get credit card?
Yes, but add-on card. In this case, your parents will be issued the card and they would be the primary card owner.
Should you have any more queries, please ask in the comment box. And the same shall be answered as early as possible.
Contact SBI: For any query, contact SBI by directly dialing: 39020202 or 18601801290 (BSNL/MTNL) or E-mail: [email protected].