11 Credit Cards for Businessmen in India
Like salaried individuals, businessmen or self-employed individuals (doctors, freelancers, shopkeepers and others) also need credit card for making payment for day to day expenses. There are many banks in India who offer credit cards especially for business. Listed in the below table is the list of exclusive credit cards for businesses:
| Bank Name | Credit Card Name |
| --- | --- |
| HDFC Bank | Business MoneyBack |
| HDFC Bank | Business Regalia |
| HDFC Bank | Corporate Platinum |
| HDFC Bank | Corporate Card |
| Axis Bank | MY Business |
| ICICI Bank | Jet Airways Business Advantage |
| ICICI Bank | Business Platinum |
| ICICI Bank | Business Gold Card |
| Standard Chartered | Priority Bank Visa Infinite |
| State Bank of India | Platinum Corporate card |
| IndusInd | Business Gold Credit |
What to look for in a credit card for business?
If most of your spends will be through credit card, then look for following features in the card.
High credit limit:
Although the limit on the card is decided by the banks based on the income and other factors such as (past repayment history, credit score etc.), businessmen should try to get a card with high credit limit. This is recommended to keep business running even in difficult times, when possibility of getting a loan is less.
Insurance cover:
Many business credit cards such as Standard Chartered Priority Banking Visa Infinite Credit Card – provides complimentary travel and medical insurance of up to US Dollars 200,000 whenever international trip is made.
Cashback:
Chose a card offering cashbacks i.e. certain percentage of the amount spent is paid back to the owner of the card. This money can then be used to buying other essential stuffs. But before checking this feature remember that whether the cash back percentage on everything you purchase or you need to spend pre-fixed amount in order to get X amount back.
Waiver on fees:
Try to get a card offering full waiver on services such as duplicate statement, checking balance enquiry, card replacement etc.
Interest free period:
It is recommended to pay your monthly bills before the due date in order to avoid interest and negative impact in the CIBIL record. Since your sole income would be from the business, it is quite possible that you may face ups and downs. For e.g. you face a dip in income, get delayed payments, etc. In such situations, it is very likely that you may not be able to pay monthly repayments on time and at the same time increase the usage of credit card. In such situations, look for card offering a high interest free period. This is nothing but number of days provided to pay off the bill (every month) before interest rate is applied on the balance.
Fuel surcharge waiver:
If your business involves lot of travelling by roads and using own vehicle, then fuel surcharge waiver card is worth recommended. If you calculate savings, it will be significant.
Reward points:
If you have decided to carry out purchases related to day operations such as buying stationary, office supply items etc. then look for a card giving high reward points.
Free miles:
If you frequently travel through air, then look for a card offering free air miles and lounge access (domestic and international). Many companies also offer free miles when high amount is spent through the card.
Foreign currency and ATM cash withdrawal fee:
Most of the banks charge 3.5% cross currency mark-up fee. However being a businessmen or self-employed it is quite common to transact in non-Indian currency. Therefore look for a card offering lowest foreign currency markup fee on international usage. For e.g. SBI Card Elite Advantage has a charge of 1.99% on international usage.
Author Bio – Chandra Mehta: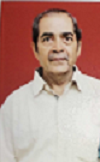 This article has been written by Chandra Mehta.
Chandra is a seasoned banker with 35+ years of experience in banking and financial services industry. He's a retired banker and has served as Chief Manager and Assistant Vice President in State Bank of India/or its subsidiaries.
He has authored many articles on this site (allonmoney.com).
He can be reached at [email protected]. You may also visit his LinkedIn profile.