Problems in Most Coworking Spaces and Why Attic Customized Space is Better?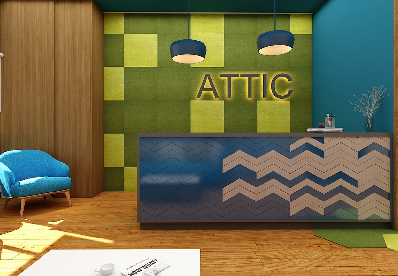 Co-working space is the one where you share office with various other founders and their team members whereas customized space is something that is yours. You can arrange the office space in your style and make it comfortable.
Though co-working space is cheaper than the customized one, it has certain limitations. Besides, customized space has a lot of benefits when compared to co-working space.
The benefits of customized Attic Space
Customized space gives a feeling of being one's own space with their personal belongings to make them feel more comfortable. The concept of open space office layouts brings lots of distractions and interruptions on an employee's mind. Restricting to such privacy in an open space is not always possible but adding a few personal items to space can give them a feeling of ownership over their place. This has proved much more efficient for the workers while eliminating the factor of emotional exhaustion. A research-based upon this shows that the Silicon Valley of India i.e office space in Bangalore has started opting for customized spaces and has seen tremendous results in their productivity.
It doesn't need much to create a customized space for one. You can just add little colours of your personality like colorful office supplies, Bulletin board with messages for reminders, a motivating calendar that inspires you each day, a bookshelf with your favourite books, office-friendly plants for giving a feeling of refreshments, a direct lamp, cushions for your comfort and lastly some wall decorations consisting of photo frames.
Problems in co-working space
Though co-working spaces offer a much conducive atmosphere with a hassle-free workflow which allows the team to focus more on growing business, it needs to be customized to emphasize working with fun. The mixture of technology and good hospitality can make it turn into this. Due to many issues like insufficient space or pocket-friendly budget, earlier such customization's remain next to impossible but in the past few decades, interior designing has emerged into new heights. One can even give a stunning look to their office with low space.
Why Attic customized space is better than co-working space
Earlier offices were not designed to be attractive but with the change in time, the concept of working in a better co-working space has emerged.
Talking about the initial image of the office, what comes to our mind first is the boring colors, opaque walls and fluorescent lights which used to be hit hard on eyes. But now the offices are turning out to be a more attractive one and it is important for the productivity of the employees too. Employees spend a large portion of their time in offices so it's important to make them feel welcoming. The blend of customization, decoration and good interior design can ensure employees to be more inspired and feel happy towards their work. A few personal touches can add magic to their work life.
Diminished Productivity
The co-working spaces have been seen to adverse ineffectively due to being crowded and noisy. The major distraction occurs is, employees spend a considerable amount of their working hours in socializing and talking to the people which ultimately results in productivity. Co-working space also results in untidiness which can cause unnecessary stress and distractions.
Insufficient Infrastructure
Infrastructure remains an important factor in the workplace for emerging productivity. Some things remain important, like having a conference room for conducting dedicated meetings. This is a great concern in terms of confidentiality in an open layout which can hamper the sense of privacy.
The absence of fix desk and chair also adds up uncomfortably, the employees may need to search for a free seat every time. Lack of infrastructure also blocks the path of adding technology to the workplace which can create a huge difference. It also includes having a proper electrical outlet for charging and lighting equipment which helps to keep you focused.
Lack of privacy
One more demerit of co-working space is that the employees are always surrounded by the entrepreneurs and their team members which may not be a positive attribute and can cause a hosted networking. The employees are left with no choice of whom they wanted to be surrounded by adding more distractions to the work. If the professional environment not remains maintained it can even cause big hurdles to it by challenging the employer's productivity. The employees also struggle while maintaining confidential phone calls r keeping any secretive information protected.
Conclusion
The ease of scalability in your working environment is important to complete your daily tasks without causing any mental stress. Apart from it, to grow the productivity it's necessary to keep the employer's fresh and engaged in their work which is possible by giving them a relaxing environment. So it's high time the offices should switch to customized Attic Spaces to give a touch of personalization by adding comfort to the workspace.