Pradhan Mantri Kaushal Vikas Yojana (PMKVY): Reward, Eligibility, Benefits & more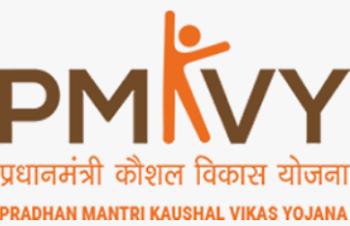 ndian government has launched Pradhan Mantri Kaushal Vikas Yojana (PMKVY) with an objective of making India the skill capital of the world. Approval to this scheme was given in March 2015 and has been implemented by Ministry of Skill Development and Entrepreneurship.
This would be done by providing training to the country's youth on various job specific skills which would be utilized under schemes such as Make in India, Clean India Mission, Digital India and others involving various industries such as construction, manufacturing etc.
After Jan Dhan Yojana and Sukanya Samriddhi Yojana, PMKVY is also expected to benefit many Indians.
Skill gap analysis was recently done for the period 2013-2017 under various government schemes. Based on the result it was found there is a shortage of skilled labor in India.
So here are the details of the soon to be launched Pradhan Mantri Kaushal Vikas Yojana (PMKVY).
Features, Benefits of PMKVY – Reward Money & Others
Objective is to train 24 lakh youths with an estimated training cost of Rs. 1, 500 crores for free.
To create registry of skills
Increasing the productivity of the skilled individuals which would be used for nation's development
Reward Money:
On an average trainee will get Rs. 8000 as a reward (one time only). This would be given by third party assessment body. However in order to receive the reward, trainee will have to appear for assessment test and based on the test results, reward would be given. This money will be directly credited to the bank account of the candidate.
The reward money differs for each training. And there is a
In order to cross-check whether candidate has already been paid Rs. 8, 000 reward, use of Aadhaar number will be made. So that is why Aadhaar number is must for receiving the reward.

Training would be provided based on the National Skill Qualification Framework (NSQF) and industry led standards and it would be a need based training.
Most of the skills do not require any educational qualification or experience.
Feedback would be collected by all the trainees who undergo assessment. This will help in calculating the effectiveness of Kaushal Vikas Scheme.
Check out: Personal loan for low income earners
Eligibility:
So far there is no detailed update but the yojana aims to provide jobs to:
First time job entrants. (Suggested reading – Personal loan for fresher)
Dropouts from class 10 or 12 or college
Applicant has to provide Aadhaar card number, mobile number, PAN card or election card.
Who will provide training:
National Skill Development Corporation (NSDC) with 187 training partners
These partners have 2300 training centers in total
Central & State affiliated training providers
Curriculum: Under this scheme, training will be given on following apart from skills required:
Soft skills
Work ethics
Personality development
Behavioral development
Cleanliness and others
Status: As per the data on NSDC website, so far:
Number of people trained: 36,57,763
Placement or jobs offered: 14,06,800
How to enroll for PMKVY:
You can visit http://www.pmkvyofficial.org/Training-Centre.aspx and search for the training centers. You can find it by selecting either the location/sector/training partner. Once you enter your selection criteria, list of training centers along with their name, address and contact number would be displayed. You can contact them and get enrolled. Candidate can apply for more than one course as well but remember that reward money will be given only once.
What is the course fee?
Training cost will vary according to the course and the same would be communicated by the center and candidates has to pay it. Some centers might not ask for fee but candidate will have to pay a small assessment fee during the application. Rs. 8, 000 reward which would be provided to the successful candidates after completion of the training can be used to pay the training fee.
How to get job after the training?
Note that there is no placement guarantee provided by the trainers or the scheme. However they may provide placement assistance.
How to receive the monetary reward?
During application candidate will have to provide bank account details to the training center which they will upload on SDMS. And upon successful completion of the course, reward money would be directly credited to this bank account. If you do not have any bank account then you can open zero balance savings account under Pradhan Mantri Jan Dhan Yojana.
Latest update on PMKVY (15Aug2019):
3,199,234 lakh enrollments done
200,128 trainings ongoing
2,986,590 total trained professionals
2,408,646 total certified
1,285,460 total placed
Refer below snapshot taken from official website of PMKVY: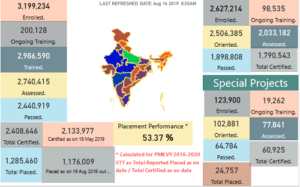 How to get more details about NSDC?
Interested individuals can contact 08800055555 or visit https://www.pmkvyofficial.org/ (official website) for more details. There are many fake PMKVY websites so be careful. To get details about the courses offered by NSDC training partners visit the official NSDC website: http://nscsindia.org/.
Check out the official video of PMKVY:
Check out PMVLK (Pradhan Mantri Vidya Lakshmi Karyakram) for getting educational loan and scholarship.
Author Bio:
I am Nikesh Mehta, sole owner and writer of this site.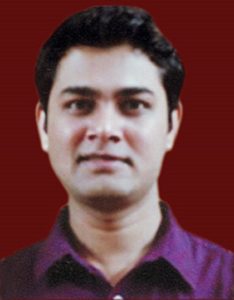 I'm an analytics and digital marketing professional and also love writing on finance and technology industry during my spare time. I can be reached at [email protected] or LinkedIn profile.