5 Ways to Get Credit Card without SSN in USA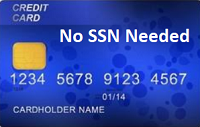 Credit card is the backbone of US economy and plays the most important role in building credit history of its people. It is very useful in buying/using important services which may or may not accept cash. For every card application, banks ask for the social security number.
However there are individuals who may not have a social security number initially when they arrive in the US. These mainly include non-citizens and immigrants – students, working professionals, and others.
No SSN means lesser chance of having a credit history, and difficulty in getting a credit card
So how to get credit card in USA without social security number?
There are four ways to get a card as follows:
1. Student Credit Card
International students with student visa can get credit card without SSN with Deserve.com. All they need is passport, student visa, Form I-20, and a proof of bank account in the United States. The cards do not carry annual fee and no credit history is checked. And the student must be 18 years or older. This is why credit cards from Deserve, Inc. is considered to be a boon for foreign students in USA with no social security number.
Three credit cards with no social security requirement are:
Deserve pro platinum
Deserve edu platinum
Deserve platinum
2. Credit Card with Individual Taxpayer Identification Number (ITIN)
Few banks in USA offer credit cards to people without social security. The alternative is to get an ITIN number. Listed below are the financial institutions in United States accepting ITIN for credit cards by asking for ITIN and not SSN.
Capital One® Platinum Credit Card
Journey® Student Rewards from Capital One®
Capital One® Secured Mastercard®
Capital One® QuicksilverOne® Cash Rewards Credit Card
Citi® Double Cash Card
3. Secured Cards
If you have an ITIN but no credit history, banks will offer you Secured Cards. These work like credit cards but applicant needs to deposit money against which card is approved and credit limit is evaluated. Few secured cards in US are:
Capital One® Secured Mastercard®
Discover it® Secured
Citi® Secured Mastercard®
4. Co-signer
Another option to get credit card without SSN is asking someone with SSN to co-sign the card application. But remember that, the co-signer's SSN and credit history will play a key role during the approval process.
5. Become Authorized User
Other solution of getting plastic card when SSN is not available is to ask your acquaintances to make you authorized user of the card they are using. Basically you will be granted access to the card account of that person. So all the transaction will be in the name of authorized user except the monthly bill, which will continue to deliver to the primary card holder. Most importantly, authorized user's credit history will be relayed to the bureaus. If authorized user properly manages the card, it will help in building or rebuilding the credit history.
Note before applying for a credit card when SSN is not available
Individuals with no social security number are soft preys for financial institutions, since they know how important credit cards are for surviving in the US. And they take advantage by charging very high interest rate and annual fee. So such individuals should not apply for a card with interest rates greater than 25% or with annual fees greater than $50.