HDFC Bharat Credit Card for Low Income (Rs.12000) Earners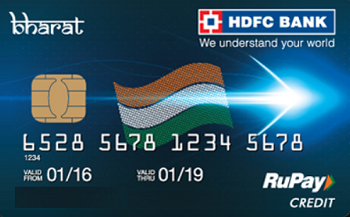 With growing digital payment in India more and more people are doing away with traditional mode of payment i.e. cash and cheque and are instead opting for mobile wallet such as Paytm/Google Pay/PhonePe/Mobikwik, credit card, debit card, etc.
Although usage of mobile wallets is on rise, individuals also prefer credit cards. This is because cards:
Help in building credit history
Can be used for international purchases which is not possible in case of digital wallets
Users get free money every month with sufficient time to repay, minimum 30 days
Get add-on card for family members which is mostly free
Earn reward points, cash back, discounts, & more
Fuel surcharge waiver and many more
However getting a credit card is not easy because of the strict eligibility criteria of which income is the most important one. Each bank or card typically has minimum income required. If the applicant's income is less than this minimum income then his/her card application will get rejected.
However there are banks and credit cards for low income earners which many users are not aware of and one such card is Bharat CashBack Credit Card from HDFC Bank.
Bharat CashBack Card for Low Income Earners
Bharat card is a RuPay card. Meaning the payment network/processor used is RuPay and not Visa/MasterCard/American Express. RuPay is India's first and only payment network. More benefits of RuPay card to Indian government and banks at the end of this article.
Minimum gross monthly income required for Bharat card for poor earners is:
Salaried: Rs. 12,000 (annual Rs. 1,44,000)
Self Employed: Rs. 16,666 (annual Rs. 2,00,000)
How low income earners can save money using Bharat card?
Once your credit card application is approved and you receive the card, you can save money (Rs. 3000 annually) by using this card as shown in the below table:
| Cashback % | Applicable On | Annual Savings |
| --- | --- | --- |
| 5% | IRCTC Spends | Rs. 300 |
| 5% | Fuel Spends | Rs. 600 |
| 5% | Bill Payment / Recharge | Rs. 600 |
| 5% | PayZapp Spends | Rs. 750 |
| 5% | EasyEMI and SmartBUY Spends | Rs. 750 |
| | Total Annual Savings | Rs. 3,000 |
Other Benefits:
10X reward points on Smart Buy spends are applicable on purchases should be made only through the official HDFC Bank link: https://offers.smartbuy.hdfcbank.com/
User can get reward points by making purchase on Amazon India, Flipkart, Hotel and Flight bookings, Myntra, medicine purchase on PharmEasy, etc. Visit above link for more offer details.
User can make monthly repayment within 50 days from the date of purchase
Free Accidental Death Insurance upto Rs. 50,00,000 (50 Lacs)
Free Fire and Burglary protection for goods above Rs.5000 for 180 days
Zero Lost Card liability post reporting of the loss of card
How Bharat Card Saves Money Helps Banks & Indian Government
Issuing RuPay card is cheaper for Indian banks compared to Visa/MasterCard. Cheaper because Indian banks issuing Visa/MasterCard run credit cards have to pay some amount to these companies at join their network or at the time of renewal. This is not the case with RuPay card.
Banks will have to pay a very small transaction processing fee compared to Visa/MasterCard/AmEx/Discover
ATM withdrawal charges are also low
Data security is high in case of RuPay since transaction data stays within India. But in case of international cards, all the users data goes outside of India.
Since payments are processed within India, the processing is fast.
Author Bio – Chandra Mehta: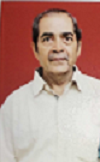 This article has been written by Chandra Mehta.
Chandra is a seasoned banker with 35+ years of experience in banking and financial services industry. He's a retired banker and has served as Chief Manager and Assistant Vice President in State Bank of India/or its subsidiaries.
He has authored many articles on this site (allonmoney.com).
He can be reached at [email protected]. You may also visit his LinkedIn profile.