Now Free Medicines & Diagnostic Services In India
Free Medicines in India
In order for affordable healthcare to reach poor and middle class people and those located in remote part of India, very soon free medicines would be available at government hospitals, dispensaries and treatment centres in India. Government wants replication of the scheme currently available in two Indian states Tamilnadu and Rajasthan. This facility would be offered only to patients admitted in these hospitals. 50 essential generic medications would be provided to Indian citizens across the nation. These medicines are for common health problems such as pain, infections, high blood pressure, patients with diabetics and few others. World health organization would release this list. Once successfully rolled out, it would bring a great sigh of relief to India which is already affected with high inflation rates. As of now, cheap medicines in India are available in Andhra Pradesh, Amma Pharmacy – Tamilnadu and few others.
For successful implementation; government would be required to purchase necessary medications in bulk.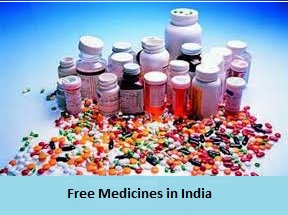 If we consider an example of Rajasthan which offers Paracetamol tablets (500mg) at Rs. 1.91/strip of 10, whereas the equivalent branded drug sold in the market – Crocin is available to the consumer at Rs. 20.35. Such reduced rates will definitely reduce burden on poor and middle class people in India.
Free Medicines in West Bengal
West Bengal government had made an announcement on offering free medicines and diagnostics services for the patients seeking medical care in government hospitals in January 2014. Free beds is also provided to rural health centres run by West Bengal government. Free medications and diagnostics services can also be availed by pregnant mothers and child upto 1 year of age.
Initiative by Maharashtra Government
Free medicines and equipments are offered to the patients in state run hospitals from March 01, 2014. WHO listed 429 essential drugs which includes drugs for treating cancer and heart problems.
No Cost Medicines for Drug Addicts in Punjab
Punjab government is offering medicine at no cost for drug addicts at 141 community health centres present in the Punjab. In addition to this, patients would be provided pick and drop facility from rehabilitation centre to their home until they become fully de-addicted. After the successful treatment patients would be offered outdoor rehabilitation facilities in both state run and private hospitals.