Save Money for IVF: Free Financing of 5 Lakhs, Low Cost Treatment, Insurance
Being a childless couple is painful for both mother and father. And as they say, there are solutions to every problem in this world. The same goes true with infertile couples. We're talking about In-Vitro Fertilization (IVF) treatment here. IVF has turned out to be the last ray of hope for couples, when every option to have a child fails.
However IVF cost, which is more than Rs. 2,00,000 per cycle, makes it unaffordable for many, especially poor. Although there are financing options available in the market, the high interest rate further makes it financially unaffordable for low income earning families.
As mentioned above, there are solutions to every problem, there is a solution to the high cost involved in IVF treatment which is Save Money.
Listed below are the options available to save money for IVF and related medical procedures:
Free financing
Low cost treatment
Health insurance
Free Financing for IVF
Government of Goa has launched "Matrutva Yojana" for women from Scheduled Tribes (ST) community. Under the scheme, financial assistance in the form of money will be provided to the married couples. Rs. 5 Lacs is provided for FREE. And the money can be used for medicines, medical tests/treatments, doctor's fees. However the condition is that – couples are unable to conceive their first child after three years of marriage. To further reduce the burden, Rs. 25,000 will be given in advance for doctor's consultation and medical tests/examinations.
Isn't this a great option to save money as the cost is borne by the government?
Low Cost IVF Treatment at AIIMS
All India Institute for Medical Sciences (AIIMS) – New Delhi offers low cost treatment for IVF which is nearly 70% less compared to private hospitals and fertility clinics.
Here's the table showing the medical cost for various procedures involved in IVF from AIIMS: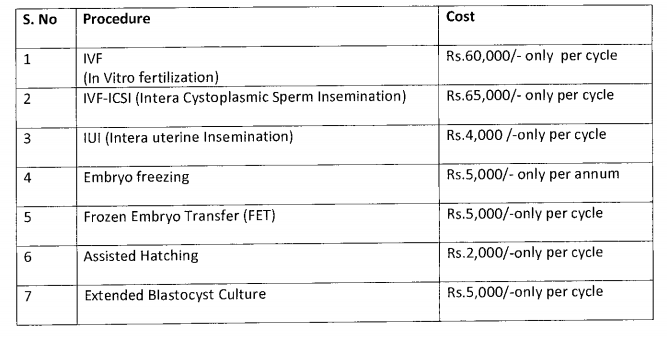 Above Image Source: https://aiims.edu/images/pdf/rate/IVF.pdf
Health Insurance for IVF
Another way to save money for IVF is buying health insurance. By making periodic premium payment, policy holder can get cover amount at the time of IVF treatment. However there are very few companies offering IVF insurance in India as follows:
"One Health" from Magma HDI General Insurance Company Limited – The health cover offered is small upto Rs. 50,000 but has waiting period of 3 years.
BMB Nirbhaya – Bhartiya Mahila Bank and New India Assurance
Note: Bharatiya Mahila Bank (BMB) has now merged with State Bank of India. So whether this product exists or not, is not known.
Fertility Insurance Scheme (IVF Suraksha) by CRAFT Hospital and Research Center – This is on a expensive side and requires individual to become member by paying Rs. 2,75,000. After that, series of treatments can be availed. However if the treatment doesn't give positive result, the scheme will refund the money.
'Family Health Optima' – Star Health Insurance offers maximum coverage of Rs. 2 Lacs for various Assisted Reproduction Treatments – intrauterine insemination (IUI), Intra-Cytoplasmic Sperm Injection (ICSI), In-Vitro Fertilisation( IVF) and TESA / TESE (Testicular / Epididymal Sperm Aspiration / extraction)
Hope the above listed ways to save money for IVF treatment helps. Should anyone have any queries, please mention in the comment box below. And the same shall be answered as early as possible.